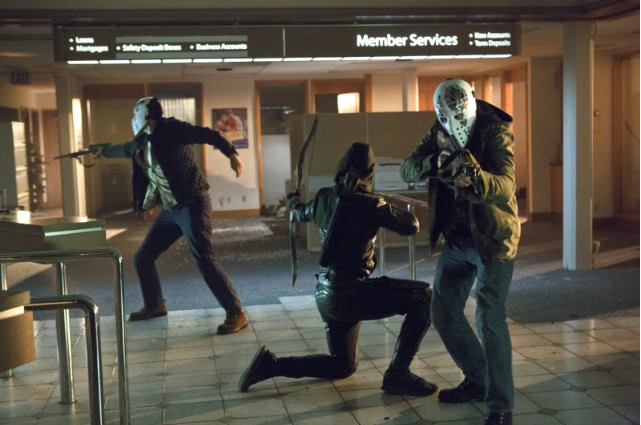 This week began with a bank being robbed by men wearing masks (interesting masks for fans of comics), and a policeman being shot. The thieves escape, and the policeman is taken to intensive care. Diggle asks Oliver to help bring the people to justice, but Oliver refuses as it's nothing to do with the list. Dig then tricks Oliver into coming to the hospital, where the policeman is being transferred to a better facility, and Dig tells the man's wife to thank Oliver for it. Oliver then agrees to help, and uses his own unique methods (breaking into police lock-ups) to ascertain who is robbing the banks. After discovering that the family are only doing it because the father was fired by his father, Oliver goes and offers the man a second chance. However, they decide to rob another bank regardless, and Oliver stops them. The father is shot and dies, but the other 3 are arrested.
Meanwhile, Laurel's agency is running out of funds, and Tommy decides to raise money for it by throwing a fundraiser (after a little suggestion by Thea). He then gets jealous of someone he and Oliver went to school with, and Thea makes a pass at him, which he refuses. Thea starts throwing up, and Tommy and Laurel make sure she's ok before Tommy takes her home. Oliver's relationship with his mother is also highlighted, with his mother claiming he's too distant now. The pair eventually reconcile by going to a burger joint together and having some fun. We also got to see flashbacks of Oliver hallucinating on the island, and how he eventually discovered the names in his father's book.
All in all, another terrific episode. It was different from the others, in that Oliver was a true hero as a pose to an anti-hero. It also showed off more of the character's emotions, particularly in his relationships with his parents and sister, as well as further developing the relationships between himself and other characters, as well as between other characters in their own right. I can't wait to see what happens next.
Twitter: @TheVRO
Facebook: Variety Radio Online
Tumblr: Variety Radio Online