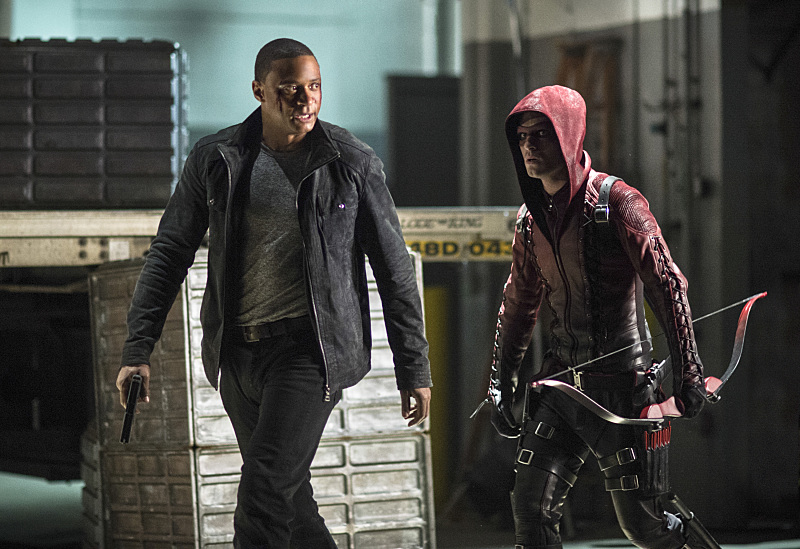 By Anna (traveller15)
The Arrow Team tries to come to terms with the loss of Oliver Queen after his fight with Ra's al Ghul.
We begin this episode after the mid-season finale where Oliver went to fight Ra's al Ghul by trial of combat to protect his sister who killed Sara. Unfortunately, fate was not on Oliver's side and Ra's al Ghul put a sword through Oliver's chest and threw him off the mountain. The Arrow Team fear the worse that Oliver is not coming back and continue to protect Starling City in the Arrow's absence.
We find Lance and the police in a high van pursuit after drug dealers. One of the police has been shot. Arsenal is on Oliver's bike chasing the van and Diggle is dressed in the Arrow suit and shoots arrows at the van from a bridge to try and stop them. Diggle complains that the suit is too tight. The van gets away but they capture one of the criminals.
Back at the Foundry, Felicity has surveillance looking everywhere for Oliver. She is in denial that he may be dead as it has only been 3 days since he has been gone.
Our first flashback in Hong Kong, Amanda Waller is not happy that China White has got away and the Omega device is still out there as a potential weapon. Maseo wants Waller's help in locating his wife, Tatsu. Waller needs to find the Alpha segment before China White gets her hands on it.
At Palmer Technologies, Ray Palmer (Brandon Routh) is testing the ATOM suit. Felicity doesn't want Ray to risk his life wearing the ATOM suit as she warns him crime fighting will only get you killed.
Laurel is working with her father, Lance to keep the criminals off the streets. In Court, Laurel is prosecuting Jermaine Fisher for killing a police officer. The defense attorney tries to get the charges dismissed due to the Arrow apprehending him but is denied.
At the Foundry the Team is still trying to locate Oliver and Felicity will keep the Team together with the lights on until his return. In the meantime, Felicity tracks down the criminal that escaped in the van Anton who is connected to Danny Brickwell aka Brick (Vinnie Jones) who gets his name due to him taking several bullets but never going down. Brick escaped from Iron Heights.
Diggle sits down with Felicity to tell her that she should prepare herself that things may not have gone Oliver's way this time in surviving.
We see Oliver lying on a snow covered cliff when a man dressed in black approaches him.
As one of Brick's men, Anton, disobeyed his order to lay low and killed a cop he is not happy. So Brick takes him out. At the Courthouse Laurel hears Fisher's attorney talking to Brick which may be a possible lead.
At Thea's apartment, she is sword sparring with Merlyn. She is concerned that Oliver has not contacted her. Merlyn said he would look into Oliver's whereabouts for her.
Felicity tracks Anton's cell phone to a warehouse. Diggle and Arsenal go to the warehouse and find his dead body. They find the burnt remains of cell phones and papers and take them back to Felicity to run a trace on. As the Team enter the Foundry they find the door unlocked and open. Felicity assumes it is Oliver but it is Malcolm Merlyn. He is there to see if they have heard news from Oliver and if he is alive. If he was alive they would have heard from him by now. Felicity is still denying that Oliver could be dead no matter how much Roy and Diggle try to convince her. She continues to find evidence on Brick. Laurel arrives at the Foundry with the ME's report on Anton. She questions Oliver's whereabouts and Diggle tells her that he went to fight the leader of the League of Assassins. She is in denial as well.
On the mountain, Malcolm finds the sword that killed Oliver. It is a custom for Ra's Al Ghul to leave the sword in memory of the fallen.
In Hong Kong, Oliver and Maseo are on their mission to get the Alpha segment. Maseo knows Waller is lying that she will not help to find Tatsu after this mission. Oliver steals the Alpha but they are trapped on their escape by the Triad. They eventually get out but Oliver hesitates in killing a Triad member letting him escape.
Merlyn returns to the Foundry with news on Oliver that he is dead. Felicity says "they really need to change the locks" with his unannounced visit. Merlyn leaves the sword with the Team covered in Oliver's blood and said he saw his body in a ravine unrecoverable. Felicity lashes out at Merlyn that it is his fault for his death. He totally agrees and will live with his death for the rest of his life. It was selfish of Merlyn sending Oliver to kill Ra's Al Ghul as he truly believed he could kill him to remove the death sentence on his head. He didn't expect that Oliver would be defeated and the sentence is still in place. He is feeling remorse.
We see Oliver's body being carried on a stretcher through the snow.
The Team quietly wait for Oliver's blood analyses which show a 99.97% match. Diggle consoles Felicity and she storms off for work at Palmer Technologies.
Thea finds Roy drinking at Verdant who he says he is upset about the loss of a friend. Thea is worried about Oliver and asks Roy a favour. She wants him to contact the Arrow. She knows that Roy is the man in the "red suit". Hey doesn't she realise Oliver is the Arrow yet? Roy lies and says he would look into it for her. Roy approaches Diggle who is looking over the case files and Roy wonders why they are still doing this when Oliver is no longer around. Diggle realises that the case files Brick has are all the criminals that the Arrow has put behind bars.
Felicity is not handling grief very well. She lashes out at Ray about when someone dies they won't come back and he needs to stop as it won't bring back his financee with the ATOM suit. Ray tells her to never tell him what Anna would want. An upset Felicity leaves. Diggle calls Felicity to tell her that Brick is going to steal all the evidence of cases being prosecuted of all the work they have done to fight criminals before Slade. She will notify Lance.
At the evidence warehouse Brick and his men are attempting to steal the evidence files. Arsenal and Diggle are in combat to stop them. Lance and the police arrive. Felicity watches on the cameras. Diggle runs out of ammunition and his hit on the head by Brick. He makes a deal with him to kill him and he can walk out alive. Diggle and Brick fight. Arsenal is pinned down by Brick's men outside but manages to get away and shoot an arrow at Brick but Brick gets away in a van with the stolen files. Felicity shuts the warehouse doors to save Diggle and Roy from being killed. She didn't want anyone else who she cares about to die.
Back at the Foundry Diggle says they have to trust each other to make it work without Oliver. Felicity says "there is no this" without Oliver. She is done and walks up the Foundry steps and turns off the lights leaving Diggle and Roy in the dark.
Back on the mountain, we find Maseo banging on a door asking for help for Oliver.
Felicity goes back to Palmer Technologies to apologise to Ray. She explains she lost a friend. She still has not admitted that she loved Oliver. Felicity doesn't want Ray to go out and commit suicide as she has seen to many friends die.
Laurel goes to the Foundry to let Diggle know that without the evidence all the criminals were set free by the Judge. All the hard work by the Arrow and the Team was for nothing. Diggle tells Laurel that Oliver is not coming back. She wants to know if Diggle is coming back. He is unsure what is to happen next. Diggle feels that he is still his bodyguard and couldn't protect him. Laurel gives Diggle a hug. After Diggle leaves, Laurel finds Sara's Canary outfit.
Thea arrives home at her apartment to find Merlyn waiting for her. He tells her that he has not heard anything about Oliver. He wants her to leave with him from Starling City and to never return.
With the criminals out of prison, Brick wants to take over the Glades. Laurel dressed as the Black Canary finds Fisher and knocks him out.
Our last flashback in Hong Kong where Amanda Waller is not happy with Oliver for letting the Triad man escape. Maseo knows that Oliver didn't hesitate to kill him. Oliver tells him that he placed a GPS in his pocket to lead them to Tatsu. Maseo says he will always be in Oliver's debt.
On the mountain Oliver awakens to see Tatsu who has tendered to his injuries. He then turns to see Maseo who has asked her to bring him back to life. So Oliver is alive.
We also have Laurel taking up the reins of the Black Canary. How will Felicity feel when she knows Oliver is alive and will she admit she loves Oliver?
Twitter: @TheVRO
Facebook: Variety Radio Online
Tumblr: Variety Radio Online