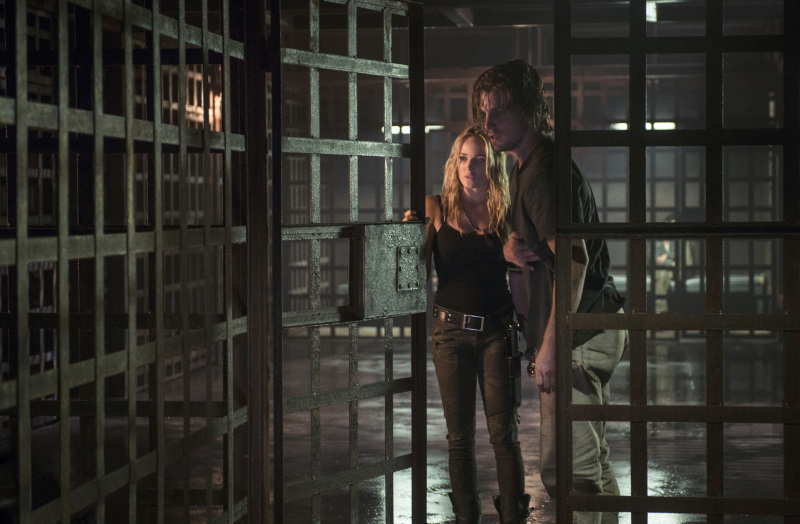 Mike 'the movie guy' Pierce and DJ Wicked are back in 2 GUYS AND 1 TV. In today's podcast they chat about last night's episode of the CW hit series ARROW. This week's episode was called KEEP YOUR ENEMIES CLOSER – People are missing and Deadshot is back! Diggle, Oliver, and Felicity jump into action.
Listen HERE to the guys as they recap the show – Feel free to email your thoughts to mikethemovieguy@gmail.com and he'll read them on the show.
Follow @mikethemovieguy @djwkd23 and @TheVRO on Twitter to stay updated.
By: Anna
Arrow #2.06 – Keep Your Enemies Closer
This week's episode we learn some backstory of John Diggle's life, a bond that is building between Oliver and Diggle as Oliver helps a friend, we come to know some more of who the woman is Isabel Rochev and some heartache for Felicity as she is crushed by Oliver in her feelings for him.
We start the show with Roy leaving the red arrow for Arrow to contact him regarding a deal going down in the Glades.
Isabel and Oliver are going head to head in his office over his missed meetings and Felicity standing at the door trying to get Oliver's attention about his meeting for the evening eventually yelling at him for attention. Oliver to Felicity as he eventually walks out of his office "We are going to have to work on your excuses".
Arrow meets up with Roy to take down the gang with Diggle as backup. Roy tackles one of the gang members escaping only to get caught by the police arriving at the scene. In the meantime, Diggle is kidnapped and is taken by A.R.G.U.S, Amanda Waller (Cynthis Addai-Robinson). She informs Diggle that Lyla Michaels has gone missing in Russia. She was looking into a lead to find Deadshot which led her there. Diggle is curious as to why A.R.G.U.S want him to go find her and Amanda Waller informs him that A.R.G.U.S cannot go in and rescue her causing an incident as much as they want her back and she knows how Oliver Queen and him spend their nights and can go in to extract her. So now A.R.G.U.S knows Oliver's secret.
Roy is arrested by Quentin Lance but releases him after Roy tells him that is working for "him" and that he is a part of his team. Lance says the arrest was all a mistake and lets Roy go.
Diggle goes back to the Lair to make arrangements to go to Russia to find Lyla. Oliver was not going to let him go on his own. He is going to help his friend. So a bromance is forming.
Our first flashback on Amazo is with Sara seemingly trying to help Oliver by telling him not to tell his captors his real name. Ivo questions Oliver as to how he came to be on the island and if he has seen a Japanese submarine. Apparently, the Japanese were carrying a serum called "mirakuru" meaning "miracle" as they were developing stem cell genetic therapy to create super soldiers. He wants Oliver to help find it.
Team Arrow head to the airport to the company jet only to be intercepted by Isabel Rochev who is not happy Oliver is going to Russia on Queen Consolidated business and not letting her know. So she is going along. Upon arriving at Moscow Airport Isabel tells Oliver that she believes he is sleeping with his short skirt wearing CEO Assistant as it is no-coincidence that she was promoted from IT girl to his assistant in a short time. Oliver flatly denied that he was sleeping with Felicity. Oliver leaves Felicity with Isabel to go to the Hotel while Diggle and him go and have a drink with an old friend.
That old friend is Russian Anatoli Knyazev (David Nykl) Oliver's cell mate from the freighter to help find Lyla. Anatoli told them that she was caught breaking in to the Gulag "Kushmar" – "Nightmare". It will be easy to get in but hard to break out. It is agreed that Diggle will go in as a prisoner.
As Diggle prepares himself back at the hotel we learn that he was once married to Lyla when they were in Afghanistan but when they came back to the States the marriage didn't work out. Lyla joined A.R.G.U.S and Diggle did a third tour.
Anatoli has provided enough drugs for Diggle to get arrested into the Gulag. Diggle is to wear a coat that will be taken off him once inside. This coat has some use but we will learn this later on.
Anatoli watched the arrest and informs Oliver.
We see Oliver, Anatoli and Felicity waiting for Anatoli's contact to arrive with an exchange that goes down. Things don't seem to be going so well and Anatoli has to hand the keys to the car over. Oliver intervenes and talks to one of the men in Russian in a firm voice who then hands the car keys back. Felicity asks what Oliver said to him and he replies "Please" then winks at her.
Back on the freighter, cell mate Anatoli tells Oliver about the Gulag.
Sara does not want Oliver to let on that they know each other. He wants to know why she is helping them in which she responds she had no choice but to help Ivo so she could survive.
We see that Slade is indeed alive, his face is burnt from the explosion that happened on the island and Shado is trying to heal his burns.
Diggle finds the guard that is to help him in the prison but a fight breaks out with the other inmates. Diggle is taken to a freezer room for 6 hours. It is there to his surprise that Deadshot is also a prisoner tied up in the freezer.
Back at the hotel Oliver sees Isabel drinking at the bar and joins her. The two of them bond over drinking Vodka (a little too much). Isabel tells Oliver that everyone at Queen Consolidated thinks him and Felicity are together but he informs her that she is just a friend. Oliver asks her why she wants the family company and she answers that it is to be successful as a woman in business and to succeed and she never backs down. Isabel wants to know why Oliver makes out to be a lazy idiot when he is not, is intelligent, driven and lonely which she claims she is as well. Isabel was born in Russia and lived there to the age of 9 years when she moved to America to live. After drinking too much things lead to Oliver's bedroom for a quickie.
Diggle's time is up in the freezer and a guard comes to release him. Deadshot breaks free killing the guard and says he is the only one that can take Diggle to Lyla if he can be included in the escape.
Back at the hotel Felicity goes to get Oliver in his room but is met with Isabel leaving. She is shocked and hurt to see what Oliver has just done. As she leaves she says to him "What happens in Russian stays in Russia, even when it makes no sense". We can definitely sense that Felicity's crush on Oliver is growing and the jealousy creeping in after Oliver's one night stand with Isabel.
Oliver and Felicity are sitting in a truck waiting for Diggle to escape but there is friction between the two of them. Anatoli arrives and says that it is harder to break out of prison and that Diggle should have been here by now.
In a flashback Sara takes Oliver out of his cell. Oliver promises Anatoli that he will come back for him. Sara leads him to a radio room to see if he can contact his friends on the island. Shado answers the call and Ivo and a guard come in. It was a trap to confirm if Slade and Shado were still alive and Ivo will now have them killed.
Back at the Gulag, Deadshot takes Diggle to Lyla. While a guard is trying on the coat Diggle had on, a bomb goes off causing a diversion for them to escape. Oliver goes to their aid dressed as a Russian guard to help with their escape.
After the escape Diggle lets Deadshot out of the car. Deadshot wants to know why he thinks he killed his brother Andy. We learn that the contract was not for the man Andy was protecting that Andy was the target. The hit was ordered by H.I.V.E. Hive is Hierarchy of International Vengeance and Extermination. Diggle let Deadshot go and could not kill him. So Deadshot is still alive and what does that mean going forward for Diggle? Will Deadshot continue to be an enemy?
Arriving back at Starling City Oliver asks Isabel if they are going to discuss what happened "why would we". Obviously a one night stand and nothing else going forward.
We have a bro moment with Oliver and Diggle that now Diggle knows how it feels for someone to have his back.
At Iron Heights Prison Moira is meeting with Roy. We learnt earlier that Jean Loring went to Thea to tell her that she could not be with Roy because of his past criminal records as it would hurt her mother's case and she needed to break up with him. Thea arrives to see her mother with Roy. Moira heard of the breakup and forbids Thea to break up with Roy.
We see Diggle and Lyla reconnecting back at Diggle's apartment. Lyla wants to go back to A.R.G.U.S to debrief with Amanda Waller and Diggle convinces her not to leave straight away and have breakfast with him. They were getting nice and cosy after all the time away from each other.
At Queen Consolidated Felicity confronts Oliver as to "why her". Oliver tells Felicity "it didn't mean anything and that because of the life he leads he thinks it better not to be with someone who he really cares about". Felicity is hurt and walks away. You can tell from Oliver's face he knew he hurt her and has some feelings for her. As she leaves she says to him "that you deserve better". There is hope for us Olicity fans that there is a connection between the two of them but not for now. We will wait and see.
We end this week's episode in flashback as usual back on Amazo. Oliver is about to be killed when Sara intervenes. Sara convinces Ivo to keep Oliver alive as he can help with the search. So now Oliver is headed back to the island to help in the search of the Japanese