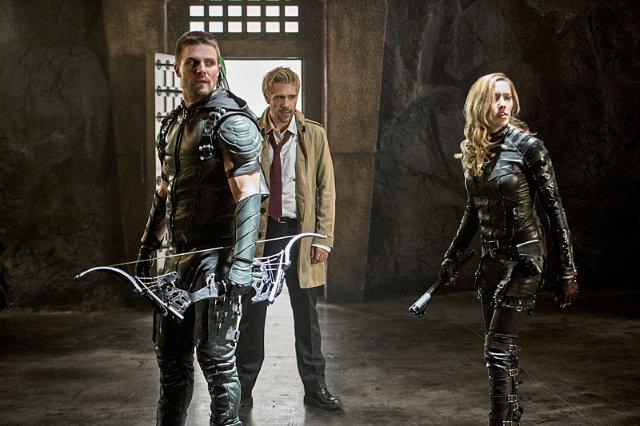 By Anna B (@traveller15)
Oliver goes to John Constantine for help to restore Sara's soul.
Sara has escaped and we find her what seems to be coming to the rescue of a waitress in an alley putting out the trash from two thugs trying to attack her. Only Sara then attacks her but the police show up and she runs away. Sara is on the rampage killing people of the city.
Laurel has to grapple with the consequences of bringing back Sara from the dead.
Thea has organized a political strategist, Alex Davis, to come onboard to help with Oliver's campaign for Mayor. Alex wants to know Oliver's personal closet as it will cause scandal for him especially being associated with Laurel Lance and the days of the Queen Gambit. He wants Oliver to distant himself from Laurel and to not treat her as a friend. Luckily Oliver tells Alex that he won't distant himself from his friends.
Flashback on Lian Yu, Klondike has the backpack with the communications gear and confronts Oliver about it as being a spy. Reiter has found John Constantine (Matt Ryan) who he questioning. This is our first appearance of Constantine and Oliver meeting to why Oliver will seek his help 8 years later. Reiter has a map in which Oliver can read. So Constantine frees himself and takes Oliver hostage to locate the places on the map. Constantine has mystical powers and these are where Oliver learns about them. Constantine is on the island to find the Orb of Horace in which Oliver helps him locate it and ends up saving his life. Constantine shows Oliver what the dagger can do by removing a tattoo from his arm and then placing it on Oliver's stomach. So that is how Oliver received one of his tattoos which is magical and no doubt will come in handy one day.
Felicity finds Curtis heading out to the gym but she has decided that there is more to the message left by Ray and she wants him to decrypt it. So no workout for Curtis. We learn that Curtis is a Bronze Medalist at the Olympics.
Darhk wants Lance to do him a favour and plug in a flash drive into a Federal computer server.
Felicity gets a location on the blonde woman killing people. So Oliver and Thea go to investigate. Laurel gets to the nightclub first and tries to stop Sara. Oliver turns up and to his surprise Sara is alive. Oliver confronts Laurel and Thea about Sara using the Lazarus Pit and their non-spa weekend. He is angry that they have played with mystical forces the girls no nothing about.
Lance visits Oliver to tell him about Sara being alive but their biggest problem is the remote access virus which Darhk gave Lance to place on a Federal computer server. So Lance visits Diggle to work together in relation to Darhk and HIVE. Diggle wants to take down HIVE and find out more information of the death of his brother, Andy. So Diggle and Lance go to the Federal computer server and put the virus on which erases people's names off it, but whose? Diggle notices Andy Diggle's name on that list.
Oliver and Felicity are at the Loft and have an emotional chat about their losses in life. They come to realize that Sara is after Thea. Sara breaks into Laurel's apartment and attacks Thea. Sara has too much strength for Thea to overcome her and is badly injured. She does manage to get away and lands in hospital. Oliver is angry with Laurel for resurrecting Sara. Their friendship is being torn apart with each other's secrets. So we learn that the bloodlust in Thea is to kill the person who killed her which is Ra's but he is already dead, but for Sara it is Thea and that's why she wants her dead. Sara goes to the hospital for another attempt on Thea's life. Sara is not herself as she has lost her soul.
Lance goes to see Darhk to say "mission accomplished". Lance asks about Andy Diggle why he was on the list to be deleted. Darhk tells him that an assassin was hired to kill him in Afghanistan as he was into drugs and arm weapons and was in the way of HIVE business.
A trap is set for Sara back at Verdant and Thea is the bait to capture her. Oliver manages to tranquilizer her. Oliver phones John Constantine who has mystical powers to come to Star City to bring Sara's back and find her soul as he owes him a favour. Constantine is going to do a Restoration of her soul. He gives Oliver a list of things required. Felicity loves that Constantine is not another gorgeous woman from Oliver's past. So the ritual begins to take Sara back to the other realm with Oliver and Laurel. On the other side they locate Sara in the Pit and have to get her out to save her soul and restore it in her body. Sara opens her eyes and she is restored. Constantine also senses that there is also another problem to which Oliver tells him about Darhk. Constantine's advice is to leave town while you still can.
Lance takes the classified file on Andy Diggle given to him by Darhk to Diggle which proves that Andy was corrupt. Diggle learns that Andy was not the brother he thought he was and why HIVE had him killed.
Lastly back at Curtis' lab, Felicity finds Curtis on a high from all his energy drinks but he has decrypted Ray's message which says he is alive and in trouble. No doubt Felicity will be digging deeper to find where Ray is?
Variety Radio Online – – Bringing you all things Entertainment including News, Reviews and Interviews. Check out our website, like us on Facebook ,follow us on Twitter ,Tumblr and Instagram
//