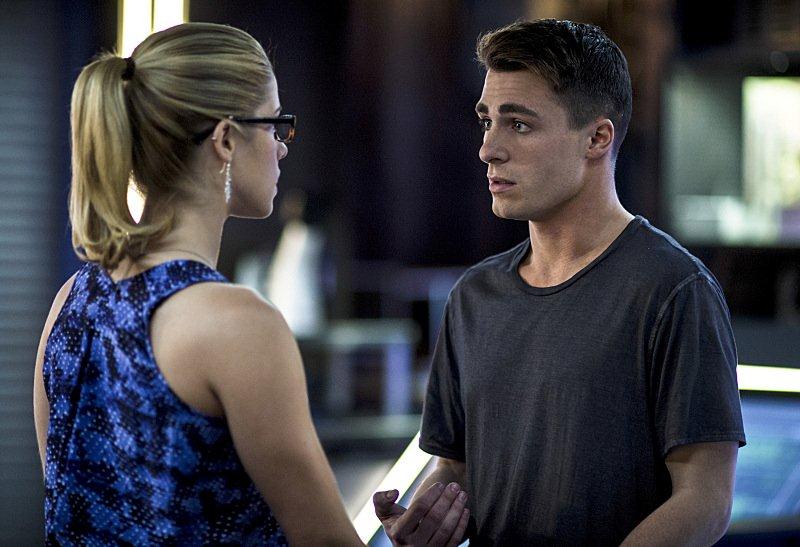 By Anna (@traveller15)
There is a new vigilante in Starling City going after who he finds guilty. Roy is dealing with dreams of killing Sara. What do these dreams mean?
Roy, Diggle and Arrow are at a warehouse chasing gang members who they find strung upside down and dead. A message of "guilty" is left in blood on the floor. They have one lead a gang member named Paco. Back at the Foundry Oliver tells Roy to go get some rest as he is off his game while he and Diggle head on out again.
Our first flashback in Hong Kong is with Oliver and Maseo (Karl Yune) waiting in a marketplace for China White's courier as they are after an envelope containing intel.
Laurel is boxing training with Ted Grant at the gym and then head out for some dinner.
Back at the Foundry Roy asks Felicity if she will do a blood test on him to see if the Mirakuru is still in his system. She says he doesn't have it in his system anymore. He is looking for answers as to why he is not sleeping. When his blood work comes back negative Felicity asks what is going on with him. Roy confides in Felicity about his dreams that he killed Sara. These dreams don't feel like dreams but like memories and that he actually did kill her. Felicity seems a little spooked out even though Roy believes it is all crazy.
Arrow goes to a bar for information on Paco. He is given the name of Emilio Ortega. Felicity pings his cell phone and finds him in the Glades. When Arrow finds him at the Wildcat gym, he is hanging upside down, dead. Ted Grant walks in and is now a suspect. The words "guilty" are again written on the floor in blood. Arrow suspects Ted but he has an alibi that he was with Laurel training and then dinner for the past 2 hours. Lance investigates the murder. Laurel tells Oliver, Ted didn't murder any one. Oliver is not happy as he said he would not train Laurel and now she is being trained by Ted even if it is only boxing to let off steam.
Oliver is sitting in Maseo's house trying to remember the envelope. Maseo's son plays a memory game with Oliver. Maseo wants his wife, Tatsu (Rila Fukushima) to help Oliver recover his memory as if they capture China White the debt is paid and they are free from Amanda Waller. She agrees to help him with his memory. Tatsu just wants Oliver out of their lives and nothing to do with him.
Back in the Foundry, Felicity looks into Ted Grant's background and finds out that he beat someone to death. The gangs that were killed were beaten to death with brass knuckles worn by a lefty. Oliver put a tracer on Ted Grant and goes after him only to find another dead guy at his storage locker. Ted and Arrow fight with Arrow knocking Ted out with a boxing glove arrow "punch". Ted believes that he is being set up as he used to be a vigilante 6 years ago in the Glades like the Arrow. Ted only wants to find out who is doing the killings. They go to Laurel to find out who the dead guy is. Arrow wants Laurel to stay away from Ted. Oliver wants to know if Ted knows why she is training and that she is playing a dangerous game to follow in Sara's footsteps.
In the Foundry, Felicity won't let Roy go out with Diggle to meet up with Arrow. She did a virtual forensic autopsy on Sara's body regarding the projectile of the arrows which could have been thrown by Roy with the force from the Mirakuru. Now she has Roy thinking it could be true that he killed Sara.
Arrow and Ted go to find the vigilante who gets away and Ted is arrested.
Back at the Foundry Roy confides to Oliver and the rest of the Team including Laurel that he killed Sara. He believes it is his suppressed memory coming to the surface in his dreams from the time he lapsed out with the Mirakuru in his system. There is nothing to prove that he didn't do it. First the Team needs to focus on Ted.
Tatsu teaches Oliver to go to his subconscious to remember his memory of what he saw in the marketplace. He now remembers what happened to the envelope.
Lance interrogates Ted at SCPD. Laurel goes to help Ted to find out who the man is behind the mask. Ted had an apprentice when he was the vigilante, Isaac. He was Ted's guy like Arrow's guy in red. We learn that Isaac was the one that beat up the guy 6 years ago and Ted took the wrap for it. The police dropped the charges on Ted.
Diggle wants to go look for Roy and bring him in especially if he has the effects of Mirakuru in his system. Their crusade is meant to be about justice and not to have 2 sets of rules one for the bad guys and one for them. Diggle wants Oliver to cut him loose and abandon him to have justice for killing Sara.
Isaac catches up with Ted and wants to kill him. He kidnaps Ted and Laurel. Laurel is able to phone Felicity and let the Team know where to find them. Diggle and Arrow go in pursuit but Arrow is knocked off his bike. Roy arrives in pursuit and takes on Isaac. Isaac tells Roy that he is being used as a weapon in his "arsenal" and Arrow will turn his back on him and abandon him. Is this where Roy gets his name as "Arsenal"? Roy defeats Isaac. As Arrow approaches, Roy says "don't abandon me" to which Arrow says "never".
Back at the gym, Ted cleans up after the murder. Arrow goes to tell Ted to stay away from Laurel due to her venerability. Arrow tells Ted the problem wasn't cutting Isaac lose but not having faith in him but Arrow won't do the same thing with Roy.
Oliver goes to give Laurel a ride home from the hospital. He tells her that he will always look out for her, not because she is helpless because he cares about her.
Roy doubts himself as he was told he was only a weapon in Arrow's arsenal. Oliver says maybe they should call him "Arsenal". Roy wants to turn himself in for the killing of Sara. Oliver helps Roy remember with meditation used on him by Tatsu to unsuppress his memories. His actual memories are of him killing the police officer with the arrow and not Sara when he was under the influence of the Mirakuru. Sara's death triggered those memories. Roy still says he is a murderer and has to come to turns with it.
Back in Hong Kong in the marketplace, Oliver and Maseo go in search of the envelope. They find it containing a picture of mountains. A message is contained in the picture to contact Li Kuan Hui.
We end with Laurel going back to the gym to tell Ted that she has had his named cleared and she wants to continue her training. Laurel wants Ted to give her the tools to avenge Sara's death and to give her the justice outside of a courtroom.
We end with Isaac being taken to prison and Cupid shoots arrows in the police officers. So we meet Cupid who is in next week's episode who has a crush on Arrow. She was also an onlooker earlier in the show who must have been watching Arrow's moves.
Twitter: @TheVRO
Facebook: Variety Radio Online
Tumblr: Variety Radio Online