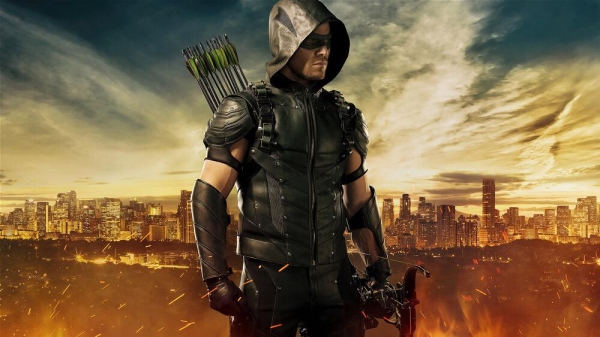 By Anna B (@traveller15)
This will be the season that Green Arrow is borne. We last saw Oliver and Felicity drive off into the sunset to begin a life together. Unbeknown to them Star City which has now been renamed in honor of Ray Palmer is under attack by a "ghost" assassin named Damien Darhk. The Team Oliver left behind will need the help of him if they are to defeat this new threat. Plus which side will Malcolm Merlyn be on now that he is the new Ra's al Ghul.
The season begins 5 months later with Oliver running through the trees when he finally comes out to suburbia and home to Felicity who is cooking an omelet. Unfortunately, to Oliver she has failed the omelet. He enjoys jogging now as he is not chasing after anyone. Oliver has had his dragon tattoo removed which was a time from his days reminding him of Shado. Felicity has a conference with the Palmer Tech Board in relation to her being the CEO of Palmer Technology Industries.
Meanwhile, back in Star City Team Arrow which is now Laurel (Canary), Thea (Speedy, but she wants to be called Red Arrow) and Diggle are looking after Star City. We see Laurel who now can ride a motorbike with Speedy on the back and Diggle to try and take down some criminals called "ghosts" which are taking over the city. Diggle now has a mask to protect his identity. Laurel and Thea want to get help and contact Oliver. Diggle still has trust issues with Oliver from kidnapping Lyla and is reluctant for the girls to contact him.
City Hall is without a Mayor and is running the city with a Committee. While Quentin Lance is meeting with the Committee they are interrupted with a visit from Damien Darhk (Neil McDonough). Darhk tells them he is the one they are looking for and the "ghosts". He wants the city to die so that he can rebuild the city.
Oliver and Felicity are having brunch with the neighbors when the subject of kids is brought up. Felicity doesn't seem to be impressed with the topic. Oliver has a ring which was his mother's which he plans to propose to Felicity.
What would Arrow be without a flashback which we go back 5 years? Oliver is a hood chasing a crack dealer only to be pushed off a rooftop and greeted by Amanda Waller. Amanda wants to help him and tells him to stop running from his inner darkness and let it run its course. Amanda drugs him. We later see Oliver on a plane being pushed out back onto the island of Lian Yu.
The city is under attack by the "ghosts" and people are dying.
The big night arrives and Oliver places the engagement ring into a soufflé and plans to propose to Felicity. Unfortunately, he is interrupted by Laurel and Thea asking for Oliver's help. They plead their case and want the Arrow. Felicity says to go. They head back to Starling City which is no more and is now called Star City in memory of Ray Palmer. There is a new lair which is not set up yet which they are based from. Diggle is not very welcoming towards Oliver. Lyla has forgiven him. Felicity is back behind a computer which she missed. Oliver realizes that Felicity has been working behind his back helping the Arrow Team all this time while they were travelling. Felicity misses saving the city and helping people. It was her calling to be part of the Arrow Team.
Felicity gets a hit on her computer that the "ghosts" are at Admiral Transport Interchange. Oliver takes off and tells Felicity that they will not be around long enough for a new suit. Just wait. The rest of the team arrives. Darhk gives a pep talk to his men where they see he has mystical powers. At least they know that Darhk wants to blow up the train station.
Thea appears to be showing effects from the Lazarus Pit where she loses control of herself in a fight and enjoys the adrenalin feel.
Diggle tells Oliver he has a problem with trusting him as he trusted Merlyn more than him. He also tells Oliver that he doesn't trust, love and was able to fool Ra's as he is just as dark as the League. Lance still shows animosity towards Oliver and tells him he is still a monster. Oliver is trying to prove to himself that he is not a monster and he has lost the darkness within.
They locate the bombs which are coming in on a train to blow up the city. The Arrow Team suit up. Felicity has a surprise for Oliver, a new suit. So the Green Arrow is borne.
The train station is evacuated. Oliver jumps onto the moving train to be greeted by Darhk. The Green Arrow cannot stop Darhk and is saved by Diggle. So Darhk is going to be a formidable enemy and one that Green Arrow is going to have to find a way to destroy him this season. Darhk has men at his disposable in HIVE. Diggle knows that HIVE had his brother, Andy, killed and is not letting on that he knows about them. He will keep this secret for now but I'm sure it will come back to bite him soon enough.
To bring hope to Star City Oliver livestreams a message to the city that it should never have descended into hopelessness and is full of darkness and proclaims that he will find the light in the darkness and fight for the city as the Green Arrow.
We end with Darhk having a visit from Lance. A twist Lance is in bed with Darhk and doing his bidding. Darhk wants him to find out who the Green Arrow is and his love ones and take them out before his associates arrive. Hopefully, Lance will come to his senses and realize that Darhk is evil and he is wrong about Oliver and needs him to save the city.
Oliver and Felicity move into the Loft. He places the engagement ring into some marble pebbles for another day.
We end with a shock with Oliver standing over a grave 6 months forward with Barry apologising for being late for the funeral because of Zoom. Who is in the grave? It all appears that it could be Felicity, the light and love of his life. He swears to Barry that he will kill the person responsible for the death. So it is someone close to Oliver's heart that dies. Hopefully it is not Felicity, but we do know that it will have to be someone of closeness to him. Barry will offer to help to bring this person to justice.
It seems obvious that the death could be Felicity but Oliver and her have only just began a life together. As seen from season 3 their relationship blossomed in the first episode of the season only to have obstacles throughout and finding each other at the end. I think there will be obstacles throughout this season as well and we will see Oliver propose to Felicity at the end of the season. So I think it could be someone else that dies, perhaps Laurel or Thea. I have heard this death is not fake and will be a real one. As well this season is a lot lighter than pass seasons but the darkness is still apart of Oliver. He will have to fight that within him if he is going to revenge the person's death in the grave.
We will also see more of Diggle and how HIVE plays out this season.
Variety Radio Online – – Bringing you all things Entertainment including News, Reviews and Interviews. Check out our website, like us on Facebook ,follow us on Twitter ,Tumblr and Instagram
//