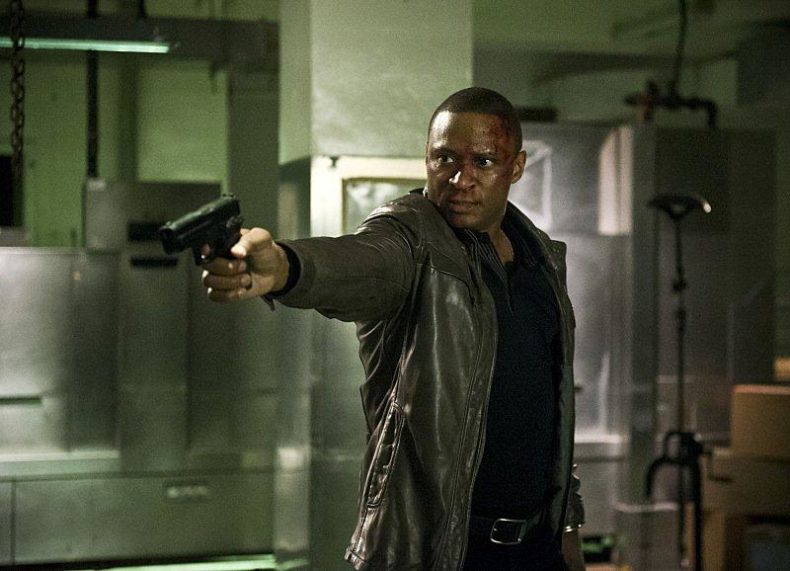 Diggle is having difficulties dealing with his guilt and wants revenge on Darkh and Oliver confronts his deep fears of black magic.
Darhk with Merlyn and Murmur invade his fellow HIVE members meeting and takes revenge on two of them due to his incarceration. It is now time to begin the final phase of Genesis.
At the lair Oliver tells the team that he was able to contact Constantine who has put him in touch with someone who may be able to teach him how to defeat dark magic. Only thing it is quite dangerous. While Oliver is learning how to defeat dark magic, Thea plans a trip with Alex for some down time. Diggle visits Lyla and Sarah at the mobile safehouse which is a semi-trailer who is being protected from Darhk. Diggle wants to go after Andy on his own without the team.
Since Oliver moved out of the Loft, he has been living down in the lair. Felicity finds him and says he should have a fern which would thrive in dark places something like the fern he was given by her previously. Felicity wants to go with Oliver to Hub City.
Diggle gets an alert on his cell on Andy's location. He finds him and they have a gun fight. Diggle catches up with him but Andy and HIVE men overcome Diggle and he is held captive. Andy is to prep Diggle by torture in readiness for Darhk.
So Oliver and Felicity head off to Hub City to meet Esrin Fortuna at the casino. Felicity plays the blackjack table where they meet. Esrin is an immortal shaman. She takes Oliver and Felicity through a door to a cavern. So we learn that Darhk draws his power from fear and dark and the opposite is light and hope. If Oliver can learn to channel the light he can defeat Darhk but if the darkness within Oliver is too strong it will outweigh the magic and make Darhk more powerful.
Thea is on vacation with Alex in suburbia. She is a little concerned that the place they have gone is a little too perfect. Something is wrong and things sound like they are on a loop and there is no cell signal. Thea can't remember anything. Alex has been taking the genesis pills and has drugged Thea.
Diggle overcomes Andy and the HIVE men but he cannot take his revenge out on Andy and kill him. This was all a diversion for Darhk to have a tracker placed on Diggle to locate Lyla.
Oliver begins his magic training. The tattoo Constantine gave him will help channel the magic. The darkness is too strong and overcomes Oliver with flashbacks of all the deaths he has witnessed to his loved ones. Felicity believes that Oliver can change and overcome the darkness.
Diggle makes it back to Lyla who is furious with him taking things into his own hands. His guilt is beating him up because of the death of Laurel. As the semi is on the move, Andy and HIVE men fire a rocket launcher at the semi. They are on their own with no backup. Darhk stops the semi and he wants Lyla. Diggle escapes on a motor bike with Sarah and Andy chases after them. Lyla stays behind in the semi. She is no match for Darhk. Oliver comes to the aid of Lyla. Oliver fights Darhk and was able to repeal his dark magic making him disappear. Andy catches up with Diggle but a message got through to Felicity and she smashes the van into the HIVE men rescuing Diggle and Sarah. Andy gets away with Diggle chasing after him this time. Andy urges Diggle to kill him if he wants to protect Lyla and Sarah. He doesn't want to kill him but the constant goading gets the better of Diggle and he kills Andy.
Back at the lair Oliver tells Felicity that the reason he could repeal the dark magic from Darhk was that he could hear her voice reminding him of all the good things in his life, his family to never give up and to have hope.
Lyla recovers in the lair. Diggle tells her that he had to kill Andy. Darkh was after Lyla who has taken Rubicon which was inserted under the skin of her arm for safety. Rubicon is a ballistic protocol override program designed that no country can launch a nuclear weapon. Darhk wants to destroy the world with Genesis by using nuclear bombs. Meanwhile, Thea is trapped behind a force field. Will she be able to get out? This seems to be the ark where the people who survive the nuclear explosion will begin Darhk's new world.
Variety Radio Online – – Bringing you all things Entertainment including News, Reviews and Interviews. Check out our website, like us on Facebook ,follow us on Twitter ,Tumblr and Instagram
//