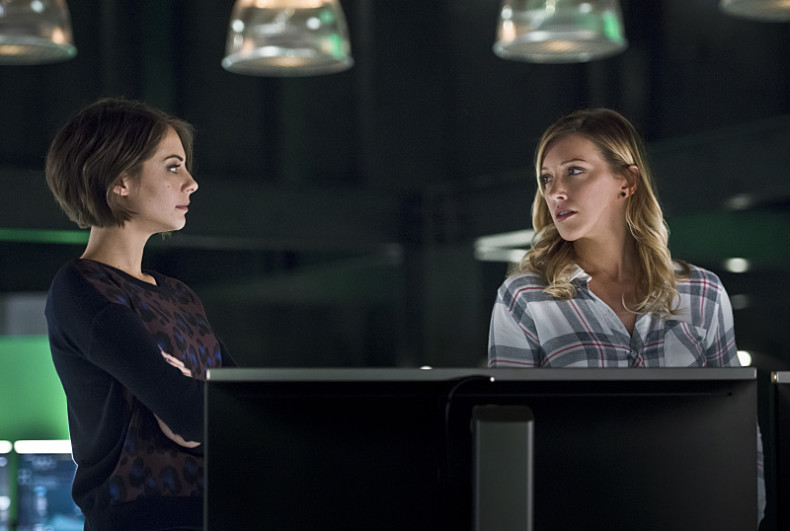 This is the episode which reveals who dies and is in the grave. It is a shocking and heartbreaking episode in which that person dies as the title says at "Eleven-Fifty Nine".
Diggle finds Andy getting a gun out of his safe in his apartment for protection. Andy confesses that HIVE has found him and Merlyn has approached him who now works for Darkh. Merlyn wants Andy to help him hijack a shipment of missiles.
Oliver has the idol in the lair and says there is something he hasn't told the Team – "shocker". He tells them that he came across the idol when he was on the island. They need to keep the idol away from Merlyn and Darhk. Diggle wants to trust Andy to keep an eye on Merlyn and Darhk and act as a double agent. Oliver is skeptical.
Oliver, Thea and Laurel attend Ruve Darhk's Mayor acceptance speech. Ruve offers Laurel an opportunity to be DA.
On the island flashback, Oliver and Tiana prepare to take out Reiter's men and release the prisoners to escape the island.
Oliver and Diggle stake out the location of the missile drop while Thea and Laurel stay behind at the lair to protect the idol. They are paid a visit by Merlyn and his men looking for the idol. The girls fight them and while Thea fights Merlyn she hesitates with him knocking her out. Merlyn is able to steal the idol. Meanwhile, the missile drop was a decoy. Oliver is even more trusting of Andy and his loyalty to his brother.
Lance meets with Laurel to tell her to turn down the DA job. He would rather her continue being the Black Canary.
The Green Arrow Team has a location on Merlyn in a warehouse. Unfortunately, it appears to be another trap for them. This time Andy takes an arrow for Oliver. But is Andy still playing them? They need to get to Iron Heights Prison before Merlyn so Darhk doesn't get the idol.
Merlyn's deal with Darhk for getting the idol is to spare him and Thea from Genesis. Apparently, the idol is missing a piece of stone so its mystical powers won't work.
Diggle tells Andy that there is a stone missing from the idol which they have hidden and it won't work for Darhk. Laurel goes to Iron Heights Prison to check on Darhk. Meanwhile, Andy searches Diggle's apartment looking for the stone. Oliver arrives at the apartment who finds Andy searching and questions him, but of course, Andy has an answer that he is looking for bugs that HIVE may have planted. Oliver accuses Andy of working with Darhk. Before he can get answers Diggle comes home. Oliver tells Diggle not to have a blind spot when it comes to family as it has been too co-incidental with all the events that have happened. Diggle is adamant that Andy is on their side.
The Team is falling apart, Diggle is furious with Oliver, Thea is consumed with rage for Merlyn and Felicity is gone. Laurel wants to turn down DA, but Oliver tells her she has working all her life to be DA and should now do it.
At the prison, Amar delivers books from the library to the prisoners which have hidden in them knives. He also brings the idol to Darkh. Darhk escapes and there is a prison riot. The Green Arrow Team head to the prison with Laurel as the Black Canary for the last time. Lance turns up at the prison even though suspended from duty knocking out a police offer to give the Team an opening to get into the prison and fight the prisoners. Andy also goes with them. Merlyn arrives and Thea fights him but she is overcome by him. He tells her that she has lost her bloodlust to kill and will never beat him. One of the prisoner's gets the drop on Andy and Darhk will kill him if Diggle and Oliver don't put their weapons down. Andy hands over the missing stone to Darhk. The idol is activated. Thea puts two arrows in Darhk but with his powers restored heals himself. Darhk has worked out the identities of the Green Arrow team thanks to Andy. Darhk tells Laurel that he made her father a promise that if Lance betrayed him, he would kill his daughter. So he stabs her with an arrow.
Oliver rushes Laurel to the hospital for emergency surgery. Lance finds out that Laurel has been injured and needs to get to the hospital. Felicity, Diggle and Thea also rush to the hospital. Diggle is beating himself up about Andy working with Darhk who has escaped. The doctor tells the Team that Laurel will pull through. They see Laurel and tell her how much they all love her. Oliver wants to stay with her. Laurel tells Oliver that she hopes he finds his way back to Felicity. Laurel tells Oliver something which we will have to wait for a later episode or next season. All of a sudden Laurel seizures and crashes. OMG the Team watches helplessly and emotionally as the medical team try to save her life. She doesn't survive and dies at Eleven Fifty-Nine. The Team is heartbroken.
Oliver walks out of the room into the corridor to meet Lance. The look on Oliver's face tells Lance everything that he was too late for his baby girl. Lance collapses to the hospital floor a broken man.
Variety Radio Online – – Bringing you all things Entertainment including News, Reviews and Interviews. Check out our website, like us on Facebook ,follow us on Twitter ,Tumblr and Instagram
//