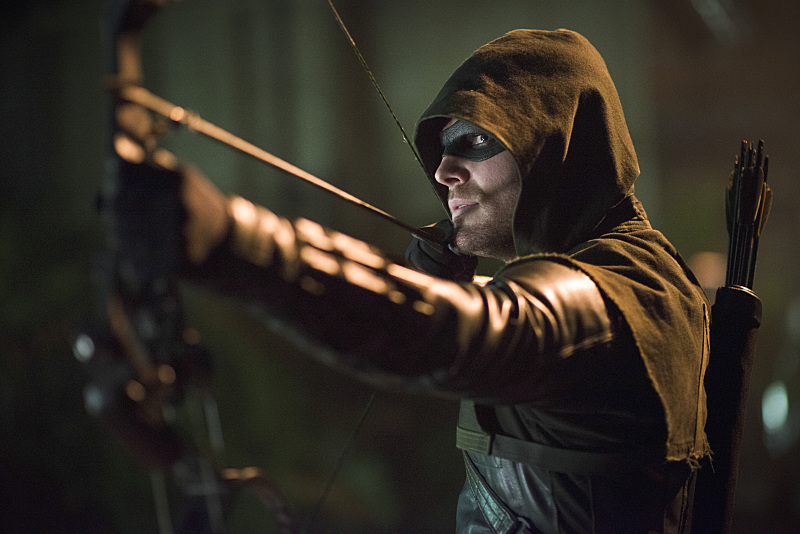 By Anna (@traveller15)
The Arrow has to deal with an Arrow-obsessed serial killer, Cupid, who believes he is her true love.
We begin this week's episode with a flashback to when Team Arrow was taking down Deathstroke's Mirakuru men. Arrow rescued a woman from being killed who we will later be known as Cupid.
Lance and Arrow investigate the killing of Isaac Stanzler who was being transported to Iron Height Prison. Lance notices that he is dressed as a copycat archer like the Arrow and is obviously a warning call to get the Arrow's attention. The only evidence is a heart sharped arrow.
Flashback in Hong Kong with Tatsu still having issues with Oliver being in her home and he needs to do his own laundry which he admits he doesn't know how. Maseo is called out by Waller on a mission to see one of his contacts at the docks.
Felicity storms into Ray Palmer's office (Brandon Routh) who is training shirtless on the salmon ladder. Oh know "she has a type". She is most embarrassed and has to turn around. Never stopped her before when Oliver is shirtless working on the salmon ladder! Ray asks Felicity out for dinner as he has a dinner meeting with a CEO from a Nevada mining company. He wants her to go as it will be boring and he may use the butter knives even steak knives. Ray buys Felicity a contour dress to win her over. So is it a platonic dinner in which Felicity replies "there is nothing platonic about contour". The dress lures her in and she will go to the dinner.
At the Foundry, Oliver analyses the arrow which he finds is shaped like heart. Oliver wants Felicity to do a work up on the arrow copycat. Diggle and Oliver see Ray and Felicity on TV at a press conference regarding his plans for the new Star City. To do so he changes the name of Queen Consolidated to Palmer Technologies. Oliver is having jealousy issues in which they do not go unnoticed by Diggle. Oliver finds a note in the arrow head leading to an address 15 Baron Street, Apt 7.
At Cupid's apartment Arrow and Diggle find a candle-lit shrine to the Arrow. Cupid phones Arrow on the cell phone she left in the apartment asking if he liked his present in which she killed Isaac Stanzler. She wants to know who takes care of Arrow as she will care for him, fight for him and kill for him. The idea is for Arrow to find her and she has taken another hostage.
Roy is having issues from the days under the influence of the Mirakuru when he killed the police officer. He goes off to help Thea get the Club ready for re-opening.
Felicity has an idea on the secret admirer's hostage a local mob boss. Oliver wants Felicity 100% to work on finding information on the killer but she asks Oliver for the night off for dinner with Ray Palmer. Oliver is definitely not ok with this and tells her "to do what you want".
Tatsu is becoming worried as Maseo has not returned from his meeting with his contact. Oliver and Tatsu go searching for Maseo at the docks.
Thea is auditioning for new DJs when an upsmart DJ who we will learn later is Chase (Austin Butler).
Felicity finds out the identity of the admirer who is Carrie Cutter (Amy Gumenick) a former police officer and was at several Arrow crime scenes. Oliver recognizes her and Felicity has her on footage at Ted Grant's crime scene and other places. She is just not a stalker but a member of a gardening club. They believe that the hostage is being held at Sherwood Florist and Oliver suits up and has Roy come with him. At the florist shop Arsenal goes after the hostage and Arrow goes looking for Cutter. Unfortunately, Cutter finds Arsenal first and knocks him out using his comm link talks to the Arrow. Cutter believes she is in love with him and wants to be with him forever. The hostage is hanging and rigged with a tripwire. Arrow has to save him and get the bomb off him before it explodes.
Roy is frustrated that Cutter took him out. Diggle notices that Oliver is not himself when Felicity is not around and is spending time with Ray. Oliver goes off to see the psychiatrist who treated Cutter and to get an understanding of her. Cutter suffers from an attachment disorder and gives him advice.
Diggle goes to visit Felicity at Palmer Technologies. Diggle doesn't think the work dinner is strictly platonic and he tells Felicity that it has Oliver twisted up in knots. Felicity says Oliver made the wrong choice in which Diggle agrees. Oliver would never express his emotions to her and would rather go 10 rounds with the League of Assassins. Felicity says "that if Oliver has a problem he should be the one to say something".
Down at the docks, Oliver and Tatsu wait in the car. Oliver asks why she left Japan to live in Hong Kong. Oliver goes to talk to rivals of the Triad but is attacked. Tatsu rescues him and find out that 3 A.R.G.U.S men were killed that night believing Maseo was one of them.
Felicity all dressed up goes to meet Ray in his office. He says she is beautiful but is missing something. He produces a $10 million dollar necklace for her to wear.
Cutter has someone helping her to locate the Arrow at Verdant. For his assistance she kills him so he cannot say anything. Lance calls Arrow to tell him that Cutter had just put another heart arrow in Bates a computer expert.
Oliver wants Felicity back at the Foundry, but she is still at her dinner date. Diggle warns Oliver that he has not got his head on straight. Oliver admits to Diggle that it bothers him that Felicity is out to dinner with Ray and she is moving on with her life but they both made a decision to move on and he only wants her to be happy but Oliver should be with Felicity.
At the dinner meeting, Felicity gets a "need help" call on her cell. She helps Diggle out and on her return Ray points out the butter knife for help. Felicity charms Gardner about the plans for the mineral deposits in Nevada and that Ray is not interested in making money but making the world a better place.
Cutter goes to Verdant at the opening of the Club. Thea's DJ has to be fired as the Club is suffering and she hires Chase. He is popular with the patrons. Arrow calls Cutter and she says to meet her at her special place which is the subway stop where he rescued her and if Arrow burns her she will kill everyone in the Club. Diggle and Felicity are at the Foundry listening on their comms while Arrow tries to talk to Cutter. Arrow tells Cutter that he knows she is hurting and he knows what it is like to want someone and not be able to be with them and that things could be different but he can't be with anyone and he has to be alone. Felicity and Diggle hear the conversation and the look on Felicity's face she is hurting. Cutter says Arrow is a liar and he has hurt her. They fight hand-to-hand combat falling through a grate on to a train line. Cutter handcuffs Arrow to the track. If she can't have him no one will so both of them will die. She doesn't handle rejection very well. Arrow breaks free pushing Cutter aside as the train approaches. By saving her, this will only make Cutter's obsession with Arrow worse.
They turned Cutter over to A.R.G.U.S and Waller to be in the Suicide Squad. Back at the Foundry, Diggle lets Oliver know that Lyla said that Cutter is a nutter worse than the last woman they had in the Suicide Squad. Is that Hayley Quinn? Diggle invites Oliver for dinner at his apartment and lets him know that Felicity heard everything that he told to Cutter about him being alone. Diggle tells him he has to tell her how he feels before it is too late.
Oliver and Tatsu go back to home thinking that Maseo has been killed only to find out that he is alive. The family is together so Oliver goes off to do his laundry.
At Verdant, Thea is pleased with the opening of the Club doing so well. The new DJ kisses Thea and will be back next week. Who is this guy?
Felicity goes back to Palmer Technologies as she feels she ruined the dinner meeting but Ray is quite happy as Gardner will sell to him. Oliver goes to the office to speak to Felicity, but he sees Ray kissing Felicity. He is too late! Ray pulls back as the night was meant to be platonic. Poor Felicity, the men in her life walk out on her.
Oliver heads back to the Foundry in a rage of jealousy. As he notices the fern Felicity gave him and knocks everything on the desk. Roy walks in on him and asks "if he is ok". For once, Oliver is not ok and either is Roy. So they both go off for something they need to Diggle's apartment for dinner with his family.
Ray is tidying up the deal with Gardner. He also goes over the plans on his computer for the A.T.O.N Exosuit. Is this suit being developed so Ray will become Aton?
We get introduced to a new villain who kills an assailant with a boomerang who know doubt will be Digger Harkness aka Captain Boomerang.
As a big Olicity fan, what will be next for Oliver and Felicity? They seem to be drawn further and further apart and hopefully they will get back together.
Twitter: @TheVRO
Facebook: Variety Radio Online
Tumblr: Variety Radio Online