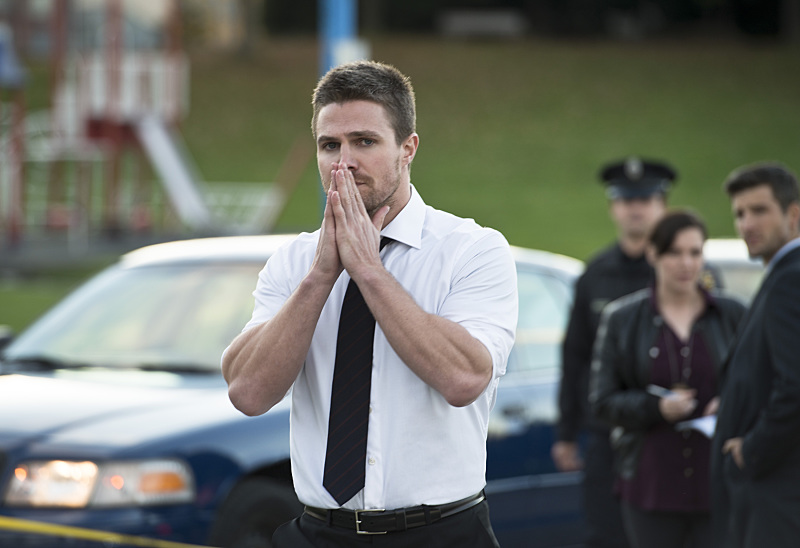 By Anna B (@traveller15)
Oliver's mayoral holiday party has horrible consequences when Darhk retaliates after Oliver takes action against HIVE.
The midseason finale begins with Oliver's mayoral campaign going well at a clean up the bay event. All of a sudden a drone flies over shooting bullets at everyone. The day of hope for tomorrow has turned into a day of despair.
Oliver needs a plan to defeat Darhk. Diggle goes to talk to his brother, Andy, after being locked in a cage and should have the drugs out of his system to see if he will help them. Diggle asks Andy what Darhk wants with the bay to which he doesn't know.
Felicity goes home to the Loft where her mum is decorating the tree in readiness for the Christmas holidays. Felicity goes to have a shower and her mum screams as she just found the box with the engagement ring hidden amongst the Christmas lights. Felicity runs downs to be shown a 3 caret ring.
Back at the bay, Oliver is assessing the damage. He has a press conference saying the city is at war with a nameless and faceless organization known as the Ghosts but their leader is Damien Darhk who works for an organization known as HIVE. Oliver is going after Darhk publicly.
At the lair Felicity is ready to celebrate Hanukkah. Oliver wants to cancel his (Christmas) holiday party due to outing Darhk. The girls want to show him they are not afraid and have the holiday party. They ask Lance for extra security. Oliver asks Felicity a question in which she thinks this is the moment he is going to pop the question. It is not, he just wants to know if they are doing the right thing as Darhk will retaliate.
Merlyn checks in on Thea on her bloodlust.
Diggle has put in place heavy security with Navy Seals. We meet Curtis' husband, Paul, who Felicity says is a hottie. Felicity goes on that she is practically engaged, knowing full well that she is not engaged for now. When Curtis and Paul tell Felicity the story of their engagement by hiding the engagement ring, Felicity has an epitome about soufflé, was Oliver going to propose? Felicity rushes off to look for her mum who happens to be cozy with Lance. Felicity is shocked and not happy with this arrangement. She tells her mum that Oliver was going to propose 3 months ago and why hasn't he popped the question since they have been back in Star City? Felicity finds Oliver and asks him if he was going to propose to her. He says "yes" but since they came back he needed to rethink things because what they do is dangerous. Shots are suddenly fired into the crowd of guests and Damien Darhk gatecrashes the party. Darhk is annoyed that Oliver will not give his loyalty and allegiance and that there would be a price to pay if refused. Darhk says "that sometimes the best way to teach someone a lesson is to not punish them but to punish the ones he cares about the most". Darhk using his mystical powers throws Oliver through a glass wall. When he comes too, he learns that Darhk has taken hostage Felicity, Thea and Diggle.
Green Arrow goes after the Ghosts to find Darhk without luck. Luckily Laurel was not at the holiday party but working the hotline. At the lair Oliver is blaming himself for their kidnap. Laurel tells him that they can take care of themselves.
Laurel goes to see Lance about a tip she got through the hotline that he is working for Darhk. He tells her that Darhk threatened her and all he wanted to do was to protect his baby girl. He says Oliver found out and he is now a spy to get information on Darhk. Laurel and Lance head back to the lair to see if Oliver has any information. Merlyn pays them a visit as to what is being done to save Thea. Oliver plans to trade himself over to Darhk.
The HIVE organization is not pleased with Darhk's progress on genesis and his revenge on Oliver.
Darhk meets with Oliver at the bay who thinks he is an idiot for threatening him when he holds his friends. The deal is that Darhk would let Oliver's friends go for him. Darhk asks Oliver who invented the gas chamber which was the Nazis. Darhk says that every now and then humanity needs a reset, do over and that time has come. He gives a demonstration and places a volunteer in the gas chamber killing him. Darhk wanted the bay as he was procuring a certain type of algae for the gas chamber.
Laurel suits up and Merlyn enters the lair saying "you have your bondage outfit on" and who happens to have Oliver's location at an abandoned industrial warehouse.
Darhk takes Oliver to Felicity to say his farewells to her. Felicity tells Oliver that she can make her own choices and protect herself and that Oliver should not have handed himself over. She also says that if he asked her to marry him she would have said yes. Darhk takes Felicity and puts her in the gas chamber where Thea and Diggle are already held. He breaks his deal with Oliver. Darhk wants to punish Oliver so the best way to do that is by taking his friends as prisoners. He is taking Oliver's leverage away from him and while his friends are alive he will fight back so Darhk will take that away from him.
Darhk turns the gas on. Oliver is helpless. Felicity tells Oliver she loves him just as Laurel and Merlyn arrive in time. Laurel using the Canary cry to crack the glass to free everyone. Merlyn is dressed as Green Arrow and goes after Darhk with an exploding arrow. Unfortunately, he is no match for Darhk as he begins to strangle him with his mystical powers. Darhk wants to know who is under the mask. Oliver comes to Merlyn's aid. The volunteers are freed from their cells only to attack Team Arrow. Darhk begins to punch Oliver repeatedly and Merlyn then comes to his aid. They leave with Merlyn placing an arrow bomb near Darhk which detonates which should kill him.
Diggle pays another visit to Andy. Diggle tells Andy that he was the man that pulled him out of Dark Waters and where is he. The man Andy is now is a Ghost.
The flashbacks on the island had Oliver needing the help of Taiana's dive instructor skills to teach him to be able to dive. Oliver thinks that Reiter harvesting drugs is only a coverup for some artifact he is looking for. Oliver heads out to the wrecked Amazo and finds a trunk which holds the survey maps of the island. On his way back to the island he is attacked by a shark which is going to leave a scar. Waiting for him is Conklin and three of his men who is going to enjoy taking pieces out of him.
The HIVE Board is still annoyed with Darhk. He shows them a warehouse of corn which is grown from the algae and that Phase 4 is on schedule, but what of Oliver Queen?
To help with the mayor campaign, Oliver lights the Christmas tree down at the bay in front of the people of the city. He tells the people that he is not going to let the darkness win and they will light a candle together united. He tells the people as well that he is also grateful for one person, Felicity who has stood beside him when times were darkest and she lights his way. Oliver goes down on one knee and "Felicity Smoak you make me the happiness man on the face of the earth" and asks her to marry him. Felicity says yes. They leave in a limo happy but 2 SUVs road block them and Ghosts machine gun the limo. Oliver shields Felicity from the hail of bullets and manages to get in the driver's seat to get them out of there. While this is happening with see Damien Darhk alive and at home with his wife and daughter putting the finishing touches to the Christmas tree. Oliver pulls a limp Felicity who has been shot from the limo and cradles her in his arm. Will Felicity survive? Is she the one in the grave? Oliver's world will come tumbling down without her.
Arrow returns on Wednesday January 20, 2016.
Variety Radio Online – – Bringing you all things Entertainment including News, Reviews and Interviews. Check out our website, like us on Facebook ,follow us on Twitter ,Tumblr and Instagram
//