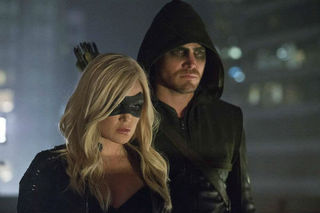 Arrow #2.04 – Crucible
By: Anna
In this episode we learn who the Black Canary is and how it will affect Oliver/Arrow. If she will be an enemy or advocate.
Oliver is holding a party for his constituents to help raise funds which he is not aware of that he is holding at the Mansion. Of course, he is nowhere to be seen and Felicity is covering his back as always especially with Isabel Rochev. Oliver is out being Arrow taking down gunrunners. A funny scene where Felicity rescues him by patting his face to remove blood.
We learn from Sebastian Blood that there is a new gang leader in Starling City "The Mayor" (Cle Bennett) to cause havoc by bringing illegal guns into the Glades. When Felicity sees Oliver and Laurel talking at the party you get the impression that she is a little jealous. She figures out that maybe the Black Canary is not following Oliver but Laurel.
Arrow captures the Black Canary (Caity Lotz) to find out who she is none other than Sarah Lance. We all thought she died on the Queen's Gambit so we were led to believe by Oliver. What secret had Oliver been keeping all these years about Sarah that she was alive all this time. He had seen her over the course of the 5 years and Sarah had even asked about Slade so she must of seen him at some point too. Sarah doesn't want her family to know she is alive. She has been watching over them since the earthquake and even figured out when she heard about the vigilante that it would be Oliver.
Oliver is now having a hard time dealing with Sarah being back and Digg and Felicity can't believe he has held this secret all this time that she is alive. Felicity asks Oliver "Don't you have any happy stories".
This wouldn't be an episode without a flashback and we are now on the boat. Oliver is being interrogated to find out who is on the island, where the graves are. If he doesn't tell him, he will be killed. That hair of
Oliver seems to get worse every episode. Oliver keeps his silent and is shot in the side. His captors leave him a medical kit to tend to his wound so he can live. We learn from the Russian prisoner in the cell next to him (who we will learn is Anatoli Knyazev played by David Nykl) that this is to prove his strength and if he can survive.
Oliver is trying hard to balance being the Arrow and the CEO of Queen Consolidated. He has a run in with Isabel Rochev who is trying to show her power that she is CEO and not Oliver. We also have Oliver is finding it hard to run the company especially as he has never had any training in the business world. He could lose all his family's wealth and his own if he doesn't figure out how to stop Isabel.
Oliver meets with Sebastian Blood to sponsor a "Cash for Guns" events to try and have the people lay down their guns.
Donner and Laurel go out to dinner but Laurel is not too comfortable with this. Could this lead to anything in future episodes? Laurel gets pulled over for drink driving. Her father is called and Lance is not happy with the path she is going down. Lance goes to Oliver so he can talk to her as she takes up drinking and pills to help hide her pain from the feeling the guilt of Tommy's death and her near death with the Doll Maker.
Felicity tracks the guns with a tracking system which she is able to enable back on after the Mayor had it switched off of the location of the guns. She tells Oliver that the tracking system was manufactured by a CEO who is always late.
At this "Cash for Guns" event Sebastian Blood has a conversation with Oliver about the Crucible for the city that there are two types, "ones who grow stronger from the experience and survive it and the ones who die".
But he goes on to say there is a third type "the ones who love to learn the fire and choose to stay in their crucible because it is easier to embrace the pain when it's all you know". Oliver says to him "Living is not for the weak" who the Russian prisoner said to him on the boat. The event is gate crashed by the Mayor and they shoot up the place. Roy is there handing in guns with Thea. Sin is also there and gets shot.
When the Black Canary hears that her friend Sin is in hospital she wants revenge. I get the feeling from her previous life that she does not like brutality against women.
The Black Canary and Arrow team up together to take down the Mayor. We next see the Mayor waking up bound and in front of a masked person. The masked man wants him to serve him and injects him with a green substance. His face is revealed to be Sebastian Blood. He doesn't want to be elected as Mayor but to build a city with super soldiers, Brother Blood. He does not seem to be for the good of the Starling City but for his own agenda which no doubt Arrow will be fighting against.
Oliver convinces Sarah that she should tell her family that she is alive. Oliver knows that the Lances will never speak to him again but it would be worth it for Sarah to be reunited with them.
We flashback to the boat where Oliver is still refusing to co-operate with information about the graves. So he is dragged off to a room to be tortured. We assume that this person is Sarah and no doubt learn more of how she survived. Will Oliver survive his torture?