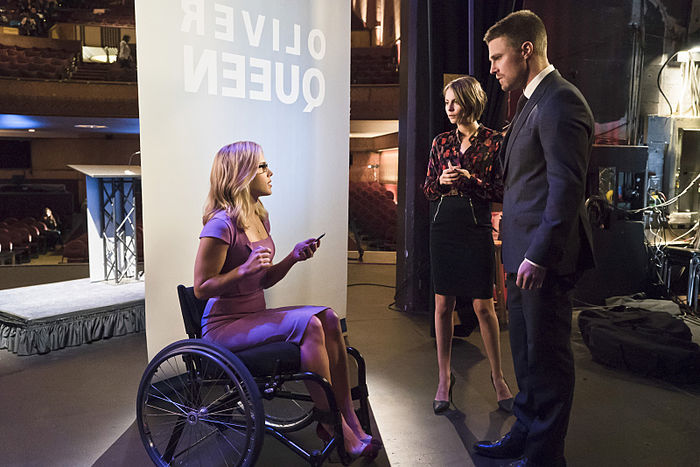 By Anna B (@traveller15)
This episode is about the lies and secrets that are kept to ensure the safety of love ones but could backfire of them.
The Green Arrow team uncover HIVE's plan to destroy them all. Can they stop the attack? Will Oliver confess to Felicity that he has a son before their wedding?
This is another great episode directed by James Bamford the wonderful stunt co-ordinator for Arrow.
Oliver meets Ruve Adams aka Ruve Darhk who is Oliver's opponent in his mayoral campaign who he will up against in a debate. Meanwhile, Felicity hands Oliver a pink envelope in regards to the engagement and on opening it is smothered in glitter. The Green Arrow and Team do some surveillance on Ruve to see if she will lead them to Damian Darhk. They lose the signal and the Team is greeted by HIVE men.
Ruve Darhk running for mayor is only a cover up for Darhk's real intentions for the city. Darhk meets with his fellow HIVE members and Merlyn has joined them. They discuss the valuable information Merlyn has brought to them and the loose end of Quentin Lance who has betrayed him. What will Darhk have installed for Lance?
Oliver and Felicity head home to the Loft to find it has been taken over by Donna and her decorating for the engagement party. A little overwhelming for them. Thea arrives with some information which could hurt Oliver's campaign. She has found out about Samantha Clayton and is curious when Oliver denies anything about it and why Moira paid her $1 million which was never cashed.
On Lian Yu Reiter has Oliver working on breaking up rocks. The men want Oliver dead for killing Tiana's brother. They want Oliver to kill Conklin. He is afraid to as he doesn't want to be a monster. Reiter has managed to decipher from the survey maps the description on the stone. Legend tells of a hidden place where a device holds power and the quest to find it is held by one person who has given passage by the Gods and Reiter believes it is Oliver. Oliver kills Conklin. Reiter is not happy with Oliver for killing Conklin.
Laurel tags along with her father to a break and entering. It seems fishy and a set up by Darhk as the building collapses around them. Laurel takes Lance back to the lair to patch him up. Diggle heads home to see if Andy knows any information plus he is on daddy duty while Lyla is head of ARGUS now. Lance will stay hidden at the lair for his own protection from the demolition team.
Donna visits Lance at the precinct. Lance tells Donna that he cannot see her for a while. Donna can read that Lance is lying to her and won't tell her the truth why is can't see her because he wants to keep her safe from Darhk. Donna is really upset with him and doesn't want to be with a person who lies to her.
Felicity locates the HIVE men and the Team goes after them. The building they are in has been rigged to blow up and the Team only managed to get out to safety with Speedy managing to get a laptop with vital information on it. Diggle finds out from Andy that they are a demolition team who now work for HIVE. The laptop has 3 nails through it. Felicity says to Oliver "the first thing you asked me to do when we met was to pull data off a damaged laptop, it's kind of romantic".
Donna is upset that Lance wants to send her way and is lying to her. Donna tells Felicity that she has found a beautiful love in Oliver who they both trust in one another. Unfortunately, Code of Silence does have secrets with Oliver being quiet about having a son and is not truthful to Felicity. When she does find out there will be consequences. Felicity tells her mum to trust Lance as he may be trying to protect her.
Oliver and Thea go over the debate questions at the campaign headquarters. Thea did some digging up about Samantha Clayton and tells Oliver that she knows William is his son. Oliver tells Thea he cannot tell anyone about his son as Samantha made it clear if he ever wants to see him, Oliver must keep quiet about the relationship. Oliver is having doubts about his relationship with Felicity that he cannot tell her about his son to begin a life with her with a lie. Thea understands that it is the right thing to do to keep the secret of William to keep him safe.
Green Arrow and Spartacus go looking at a warehouse to find that the HIVE team has left.
Felicity heads to Palmer Technology to find Curtis with a screen saver of her which is some kind of surprise for her engagement. Felicity gives Curtis the banged up laptop to get information off it.
Oliver gets ready for his debate. Curtis uploads the blueprints he found on the laptop to Felicity and the next building that HIVE wants to bring down happens to be the one the Mayor debate is to be held at. HIVE has rigged bombs in the theatre and under any circumstances Oliver is not to survive. The theatre is evacuated as the Green Arrow Team goes looking for the bombs and to take out the demolition team. The debate is able to go ahead and Ruve Darhk is not happy that Oliver survived.
Oliver and Felicity have their engagement party. Lance apologies to Donna that he lied and he was going after HIVE and working with Darhk to protect Laurel and now Donna. They make up. Curtis gives his engagement present to Felicity, an implantable bio-stimulant to walk. The power cell enabled Curtis to develop the implant which will be put in her spine in time for her to walk down the aisle.
The episode ends with Darhk at his home and bringing William who he has kidnapped for his daughter to play with. What will the consequences be for Oliver now? What will Felicity do when she finds out?
Variety Radio Online – – Bringing you all things Entertainment including News, Reviews and Interviews. Check out our website, like us on Facebook ,follow us on Twitter ,Tumblr and Instagram
//