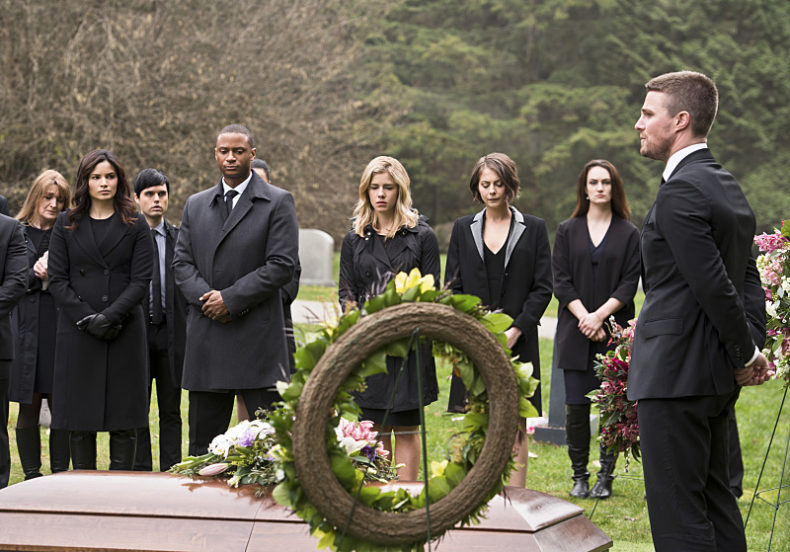 The Green Arrow Team and Lance are having difficulties coming to terms with the death of Laurel. Diggle is guilt ridden believing in Andy.
We begin the episode with a flashback to when Tommy died and Oliver was to give a eulogy at the funeral but to grief stricken to attend. Instead Laurel gave the eulogy while Oliver watched in the wings.
Back at the hospital Lance can't believe that Laurel is gone. The doctor gives Laurel's belongings to Oliver.
Lyla and baby Sara have been sent to a safe house. At the lair Diggle is guilt ridden that he didn't listen to Oliver about Andy and if he did Laurel would be alive today.
A gun deal is going down and the Black Canary appears using the canary cry enabling her to take the stolen guns. Who is this person impersonating the Black Canary?
At the lair the Team appears when Oliver calls regarding Dark. The Lance arrives showing a newspaper article where the Black Canary used a sonic weapon against some criminals. Lance believes that his baby girl is still alive. Everyone else who has died in the past has come back so why not Laurel. Oliver checks Laurel's belongings from the hospital and the sonic device is missing. As Cisco keyed the sonic device to Laurel's vocal calls who would have the device. Lance and Oliver head to the morgue to confirm that Laurel is actually dead. Oliver approaches the doctor who treated Laurel that there is a frequent flyer who visits the hospital and she could be the person who stole the sonic device but because of doctor/patient privilege she won't disclose her name.
While Thea has drinks with Alex to thank him for covering the story of Laurel's death, the Black Canary attacks him. Thea tries to stop her but she gets away. Thea phones Oliver and he is chases her down an alley. She tells Green Arrow that he failed the city and left her and others to die at Reddington. This Black Canary has modified the sonic device.
They believe that this teenager is Evelyn Sharpe who was one of HIVE's volunteers with her parents who were later killed and is seeking revenge.
Nyssa visits Lance at his apartment where she finds him packing hoping Nyssa will help her to bring back Laurel to life in the Lazarus Pit. Unfortunately, the Lazarus Pit was destroyed by Nyssa and she will not be able to bring Laurel back. Lance is determined to find another way.
Oliver is at his old campaign headquarters thinking when Felicity arrives telling him that he is beating himself up. Oliver blames himself for Laurel's death and for the girl. Felicity is now blaming herself for not being there for the Team at the lair as she always made a difference and this time she wasn't and Laurel died.
Diggle has gone AWOL. He takes it upon himself as Spartan to attack Ruve Darhk in her limo so she can give a message to Darhk to get to Andy. Green Arrow arrives to intervene. Diggle is losing it because Andy betrayed him. All he wants to do is to find Andy. Oliver tells Diggle "whatever he would do to Andy will not bring Laurel back and that you cannot forget who you are and we can never become them".
Felicity is coming up with dead ends on locating Evelyn. The Mayor makes an announcement about her attack and the attack on her adviser that she is issuing warrants for the arrests of the vigilantes beginning with the Black Canary in honor of the death of the DA Laurel Lance.
Nyssa calls Oliver to tell him about Lance's denial of Laurel's death.
Our flashbacks continue after Tommy's funeral when Oliver goes to see Laurel at her apartment. Oliver believed that he failed Tommy and couldn't save the city because of him. Oliver blames himself regarding if they knew the truth. Eventually Oliver comes out of his self-pity and Laurel and he reminisce over old times. Laurel tells Oliver that the two of them can save the city together. Later Laurel finds a letter under her door from Oliver telling her that she will be the one to save the city. That Oliver has to go away for some time to find himself.
Lance searches for clues that might help him to bring back Laurel by looking for League of Assassin members. Oliver finds him and tells him that Laurel is gone and there is no way for them to bring her back. Lance has lost his rock and can't go on.
Felicity apologizes to Diggle for not helping him through his guilt. Diggle needs to stop blaming himself. The computers find Evelyn outside Star City Plaza Hotel as she wants revenge for the death of her family. Except if she kills the Mayor she will be destroying the legacy of Laurel who is the real Black Canary.
So the Green Arrow Team head to Star City Plaza Hotel where the Mayor is holding a gala to find Evelyn before the Vigilante Task Force. Green Arrow approaches Evelyn to try and stop her. He tells her that the real Black Canary was a hero and would not kill anyone. So Evelyn gives up the Black Canary suit and it now rightly sits back in the lair. Oliver is going to preserve the name of the Black Canary as a hero not what the people have seen when Evelyn was killing people.
The day of Laurel's funeral arrives and Lance and Dinah Lance console each other. This time Oliver gives the eulogy of his friend and who he loved over the lifetime he knew her. He tells the funeral goers that she was the Black Canary and she was a hero. Everyone has left the funeral and Oliver is left standing over the grave when Barry Allen arrives apologizing for missing the funeral. Oliver tells Barry that it is his responsibility to end the darkness. We read the headstone "Dinah Laurel Lance – Black Canary". As Oliver gets back in the limo with Felicity waiting inside she tells him that "you know what you have to do – kill the son of a bitch". Felicity is giving permission for Oliver to break his non-killing and kill Darhk. Oliver has to find a way to kill Darhk but his dark magic is too strong. Felicity tells Oliver that she fell in love with him because he always finds a way to solve things and he must find a way to defeat Darhk for Laurel, the city and for all of them.
Variety Radio Online – – Bringing you all things Entertainment including News, Reviews and Interviews. Check out our website, like us on Facebook ,follow us on Twitter ,Tumblr and Instagram
//