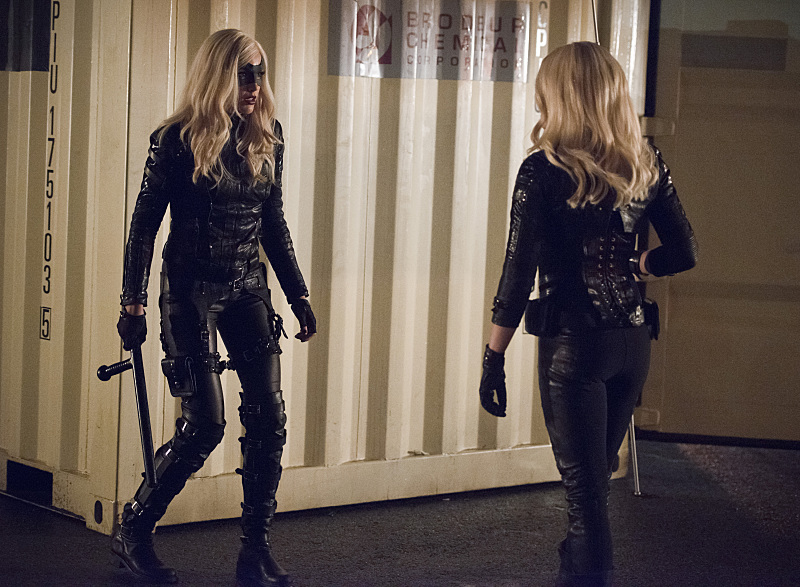 By Anna (@traveller15)
Vertigo is back in Starling City and Laurel as the Black Canary goes after him. Oliver also deals with the changes that have occurred within the Arrow Team while he was away.
We begin with Laurel as the Black Canary fighting her demon self but with Sara (Caity Lotz).
48 hours earlier Arrow and Arsenal are chasing after a criminal who is interceded by Black Canary. Oliver is not happy that Laurel is out fighting as the Black Canary and the consequences it could cause to her family if she got hurt.
Oliver doesn't agree with Diggle for allowing Laurel to be fighting crime. Felicity snidely remarks that Oliver has a visitor at the lair, his BFF, Malcolm Merlyn. Merlyn wants Thea to learn Oliver's secret if the three of them are to join forces against the League. Oliver is afraid that if Thea knows the truth that he has been lying to her all this time he may lose her forever.
Our flashback in Hong Kong is where Maseo plans to flee from Amanda Waller because he stole the virus to get Tatsu back. He tells Oliver to run to save himself and tell the world he is alive making it harder for Waller to find and assassinate him.
At the Starling City Courthouse Werner Zytle (Peter Stormare) holds a press conference when the guard is injected by one of the reporters with vertigo causing him to hallucinate and shoot at the media. Laurel arrives and knocks him out but Zytle escapes.
At Verdant Thea runs into Chase. Oliver meets Thea and tells her that he has to show her something in the basement. He has agreed to share his secret to her that he is the Arrow. He tells her that he lied to her the whole time to protect her. To his surprise she is not angry with him but thankful for Oliver saving lives.
Back at their apartment Oliver and Thea have a heart to heart conversation. She learns that Merlyn knows his secret. Oliver tells Thea that Ra's al Ghul is coming for all of them and they have to trust each other with Merlyn and work together against Ra's.
In Hong Kong Oliver phones his mum and wants her to tell the press that he is coming home. His call is short lived when ARGUS men find and taser him.
We learn that vertigo is back in play. Laurel wants to go out after Zytle but, of course, Oliver is against it. He believes that she is an addict putting on Sara's suit which gives her a high to relieve the pain of her loss. Felicity finds the reporter who we learn was threatened by Zytle that his wife would be killed if he didn't help him escape and kill the Arrow. He has a bomb strapped around his chest. He detonates the bomb and Arrow and Arsenal jump for their lives outside a window two floors down.
Oliver goes home and finds it nice that he doesn't have to lie to Thea anymore. Oliver tells Thea he will never trust Merlyn but he is a necessary evil to survive Ra's al Ghul. Thea doesn't want to trust Merlyn now that she knows everything. Thea now realises that Merlyn is the cause of all their problems.
Waller has Oliver and tortures him for the location of Maseo and Tatsu. She threatens him that she will overdose Thea if he doesn't tell her their whereabouts. He divulges the information to her that they are at the Ferries of Shanghai.
Lance goes to visit Laurel at her office. He asks again about Sara if Laurel has heard from her as he ran into Sin who said that the woman in black is not Sara. Lance is rather suspicious.
At Verdant, Roy bumps into Thea. He is relieved that she finally knows his identity. One of the Arrow Team's tracking devices is activated at the Starling City docks. Oliver put a tracker on Laurel as he wants to know what she is up to. Oliver and Roy suit up and go to the docks to find her. Laurel runs into Zytle who injects her with a large dose of vertigo. She hallucinates her worse fear of herself that she is an addict and fraud and is not Sara. The fight we saw in the beginning of the episode concludes with Zytle going to kill her. Arrow arrives to save her but gets away again.
Oliver takes Laurel back to the lair to save her but she begins to hallucinate again. Thea comes downstairs and Oliver tells her to go back upstairs as she is not wanted but Roy defends her that she has the right to make her own choices and be down in the lair seeming Oliver told her his secret. The Arrow Team stand up to Oliver now that they had to carry on when they thought he was dead and do things their way. Now that Oliver is back he believes they should be following his orders but Felicity tells him he does not have the right to make choices for everyone. Oliver is finding it hard that the Team can now carry on and make choices for themselves.
Thea leaves Verdant and bumps into Chase and takes him home for a night of passion. Chase is a mystery. He pours Thea some wine but with her training from Merlyn she is able to smell poison in her wine. She wants answer and Chase says he is serving his master, Ra's al Ghul, to assassinate her. Arsenal and Dark Archer come to save her. He drinks cyanide and dies.
Maseo comes back to save Oliver.
Laurel wakes up and realises that she is not Sara. Felicity seems to be the voice of reason tonight. She tells Laurel that Sara were a mask to hide her demons as well as save people whereas Laurel has a light inside her and she should just try be herself.
Zytle has taken hostages in a laboratory and is setting up a new line of vertigo. As Roy is rescuing Thea, Oliver relents and asks Laurel to help him. Diggle seems to be on the sidelines now that there is the masked heroes. Zytle sets the lab on fire but Arrow has to free the hostages before it explodes. Black Canary goes after Zytle and he injects her once again with vertigo. She starts to hallucinate about Sara but this time her demon is also with her father for not telling him about Sara's death. She fights the effect and wins taking down Zytle.
Laurel goes to see her father at the SCPD and tells him now about the death of Sara. He is devastated and breakdowns.
Oliver is told to race home to Thea after her assassination attempt. Thea didn't want any part of all of this with Merlyn because of what he has done in the past but she realises they need him to defeat Ra's al Ghul. Oliver and Thea need to conquer their fears. So Oliver plans to leave the city again to go to the one place he fears, Lian Yu. Purgatory. He says goodbye to the Arrow Team which he now knows the city is in good hands. Thea says goodbye to Roy and kisses him on the cheek for being there for her. So they head to the island where Oliver will be reunited with Slade Wilson.
We end tonight flashback to Oliver waking up in a limo with Maseo and Waller. She has tracked down China White in Starling City for their next mission. Welcome home Oliver.
Twitter: @TheVRO
Facebook: Variety Radio Online
Tumblr: Variety Radio Online