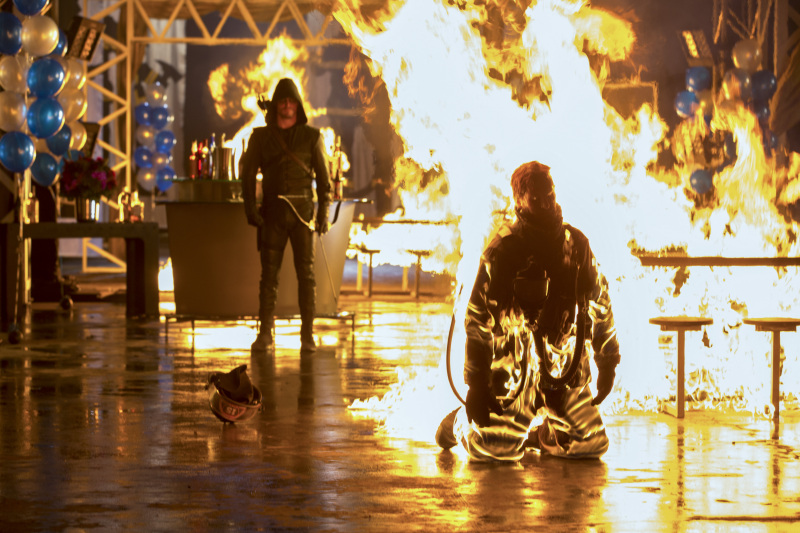 The mid-season premiere is called 'Burned', so no surprise when it opens with firefighters fighting a fire. One man calls for help but instead of lending him a hand, a figure in full gear douses him with a flammable liquid then sets him on fire. The fireman who gives his life turns out to be the brother of Laurel's friend Jo. She suspects that her brother was murdered and asks Laurel for help. But when her father says it's not a police matter, she turns to the 'Hood'.
Unfortunately, Oliver is off his game. Physically he's got the goods, but mentally he's hurting because, for the first time in forever, he realizes how much he has to lose. Not wanting to disappoint Laurel, he asks Diggle to see what he can come up with then suggests he turn his information over to the police. But Diggle's not having any of it, and when another fire breaks out, he pushes Oliver to rush to the rescue.
It doesn't go well. The firebug gets the best of Oliver but reveals a tattoo of a firefly on his hand. With that, Oliver completes the puzzle. The killer is Garfield Lynns, a fireman who was supposed to have died in a huge blaze that killed six men. Now Lynns, who was trapped in the building and badly burned is killing the other members of his old squad to get back at them for abandoning him.
Tommy steps up to the plate in his own way and throws a benefit for the fireman's fund in Oliver's soon-to-be club. It's a target the killer can't resist, and he stalks through the crowd in full gear setting off small fires with every step. Tommy and Diggle start the evacuation, but Oliver and Laurel are caught on the other side of the flames along with Chief Raines. In the most heroic gesture we've ever seen from Oliver as Oliver, he puts himself between the killer and Laurel then tries to talk the man into surrendering.
Laurel makes her escape, but barely, as she and Tommy duck falling debris. Oliver runs the other way, down to his lair where he changes into his Arrow gear. He makes it back upstairs just in time to knock a lighter out of the air, saving the Chief from being barbecued. With his plans thwarted, Lynns sets himself on fire for good this time.
As things wrap up, Moira moves past her depression over the missing Walter and agrees to take over his position at the company. Laurel's dad gives her a lecture about working with the Hood, then lets her keep the phone she needs to contact him. However, it turns out that he's bugged the phone to get the drop on the 'Hood'.
The last thing we see is Oliver picking up the book of bad guys and telling Diggle that it's time to 'go hunting'.
It was a great first episode back, playing up Oliver's mental trauma from being bested by Dark Archer brilliantly. The resolution was good, with Laurel as the catalyst (and Diggle helping a bit), and it made for a strong episode. I can't wait for more next week.
Twitter: @TheVRO
Facebook: Variety Radio Online
Tumblr: Variety Radio Online