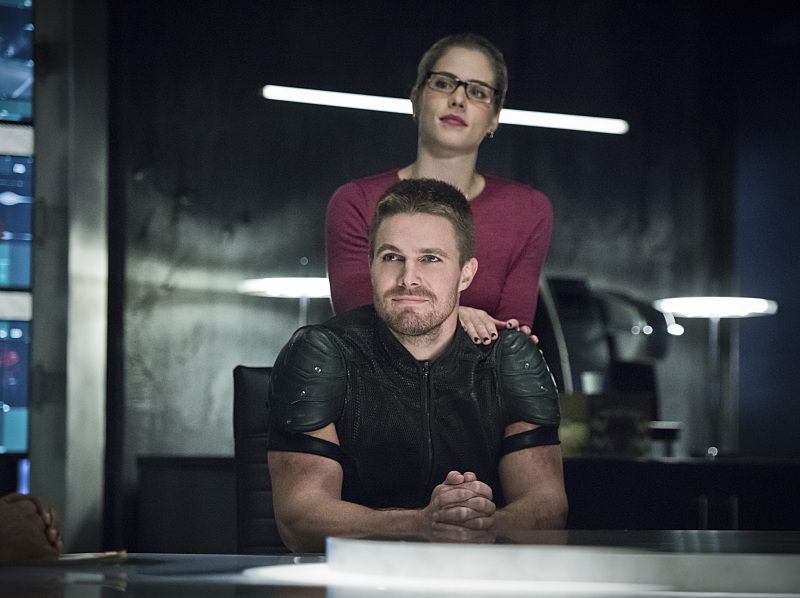 By Anna B (@traveller15)
Diggle struggles with the revelations of Andy being alive and the bond between Oliver and him is renewed.
The Ghosts are chasing a Federal cash shipment van, back to their old habits of taking down armored vehicles. The Arrow Team arrives to intercede but the Ghosts manage to blow the van up with the money inside. Tactics seem to be now for Star City bank not to have enough money in their vault. Darhk wants the city to die.
Felicity is still trying to find the DNA marker off the Ghost's tooth. So she asks Ray over to the Loft for help to identify the tooth from the Ghost. Felicity also asks Ray about why he is avoiding the subject why he doesn't want to become undead and take his company back.
Diggle shows Oliver the evidence that he was given from Lance on his brother, Andy, that Darhk acquired and that HIVE had him killed for getting in the way of their business. The tables are turn and this time it is Oliver telling Diggle to put family aside and find out the truth what really happen with Andy and give him the benefit of the doubt as things are not always as they seem.
At campaign headquarters Alex (Parker Young) advises Oliver of the gala to attend which is black tie. He is also reluctant about Oliver wanting to clean up Starling Bay. He thinks it is a "hippy crunchy program" but Oliver wants the people to see a cleaner city.
The Arrow Team goes to Wolfman Biologics to obtain a chemical which will help find the DNA markers in the tooth. While Black Canary and Diggle go for the chemical, Arrow and Red Arrow take down some Ghosts. While one of the Ghost men is down, Diggle removes his mask only to discover it is Andy. Andy is alive and obviously working for Darhk. It freaks Diggle out.
Back at the lair, Diggle is having revelations that Andy is alive after all these years. HIVE had to have faked his death and Oliver being the voice of reason this time, says they need to know why HIVE is using him and for Diggle to give him the benefit of the doubt. Diggle still believes Andy is dead because of the corruption.
Darhk calls Lance to see him as he suspects that he is playing him against the Green Arrow. Darhk threatens Lance to dread carefully as if he doesn't trust him anymore terrible things can happen other than to his daughter.
Merlyn arrives at the apartment to visit Thea to help her from the bloodlust. He suspects that she is still crippling the bloodlust. Merlyn's idea of helping Thea is to give her a file of a pedophile and for her to kill him to ease her pain of the bloodlust.
Oliver and Felicity go to the gala to honor the SCPD. Oliver asks Lance for a favor of the location of one of the Ghosts but he tells him Darhk could be on to him. Lance does tell him about Slip 52 at the Docks. Could this be a trap? Laurel tries to console Diggle about the resurrection of Andy but Diggle emotionally cannot come to terms with him being alive after his family had endue 8 years knowing he was dead. At the gala Oliver is greeted by Darhk who would like to contribute some ideas for his campaign. Oliver tells him that he is running unopposed. Darhk wants him to leave Starling Bay alone and if he doesn't, Darhk politely lets him know that he want be running unopposed.
Felicity lists all the terrible ideas Oliver has had over the years and tells him that the worse is going into bed with Darhk. Oliver tells her that he is going to use him. Felicity tells Oliver that he can't take down an evil organisation Darhk from the inside as Oliver Queen when he is running for Mayor. Oliver wants to get in with Darhk to find out about Andy. He is running for Mayor to save the city in which the Green Arrow cannot do, hope and inspiration.
While Thea is on a date with Alex, he gets a call and takes it. A patron of the bar tries to pick Thea up and she slashes out on him as the bloodlust takes hold. Alex witnesses her lose control.
Diggle ponders over whether to tell his sister-in-law that Andy is alive. He can't excuse him for letting his family believe he was dead for all those years. Oliver goes to visit Diggle at home and tells him about the docks. So the two of them team up. We find Darhk recruiting more ghosts and giving them a tablet which makes them co-operative and work for HIVE. Oliver and Diggle watch on but are spotted. A group of Ghosts come after them and we have a great fight scene with them. Oliver and Diggle manage to take them down not before Oliver gets injured and Diggle pulls him out. Oliver is badly bruised. Oliver and John have a difference of opinion over Andy. Oliver would like Diggle to hold out on hope for Andy as he needs it, to believe that no matter what happens in our lives, no matter how much darkness infects them, he needs to believe they can come back from that. Diggle reminds him that it was the League that led him to that last year and he didn't learn from that now that he is getting into bed with Darhk. Oliver wants to take Darhk down. Diggle wants to take him down in the light of day.
Ray is holding up at the Loft to find a solution from the tooth. Felicity questions him again that when you come back from the dead you are supposed to start living. He says he has been catching up for the last 6 months seeing what has happened to Star City, his company he built up and he needs to work out what he wants to come back to life for. No doubt he will be approached and heads off to Legends of Tomorrow. Back to the tooth Ray figures out where the Ghosts base location is.
The plan is to go after Andy but not to take Darhk down yet. The Team has made their decision to extract him even if Diggle is against it. To help locate Andy, Curtis has built a camera for each of them with infra-red to be able to see the Ghosts. Thea comes up against some Ghosts which one of them happens to be Andy. The Team has some amazing fight scenes with the Ghosts. Even the ATOM comes to join in. Thea comes up against Darhk who he realizes that she is trained by Merlyn. She manages to get away from him when he touches her with his magical powers but is crippled. After taking down the Ghosts, Diggle shows up at the end. Oliver says "it's nice of you to show up", Diggle replies "my brother needed me, the Green one". So it appears after all that has gone on between the two of them from the League the relationship has been mended. Diggle is very appreciative of the Team extracting Andy. Oliver admits that Diggle was right about fighting Darhk and is going to fight him in the light of day. So now Diggle needs to talk to Andy to learn what happened with HIVE. Andy confesses the contents of the file are true, he was corrupt.
Thea calls Merlyn who hesitantly goes to visit her. She tells him that she may have found another way to help with her bloodlust not by killing people. Thea learnt that when Darhk touched her with his magical powers it had no effect on her and she lost the bloodlust. Thea wants Merlyn to help her.
Not a lot happened in the flashbacks on Lian Yu. Oliver killed Vlad who appears to be Taiana's brother. Oliver tells Reiter that Conklin put him up to kill him. So Conklin's betrayal has Oliver whipping him. Oliver visits Taiana at the cave and tells her that her brother is dead. He shows Taiana a map of the island of what Reiter is up to, but he needs her help to locate an aerial map of the island.
So down at the Bay, Alex has arranged for a press conference for a "hippy crunchy program". Oliver tells the media he is going to save the Bay and Star City and it will not be done in the shadows but in the light of day. Darhk watches Oliver give his speech and when Oliver says he will never stop saving the city they lock eyes with one another. So the war has become!!
Variety Radio Online – – Bringing you all things Entertainment including News, Reviews and Interviews. Check out our website, like us on Facebook ,follow us on Twitter ,Tumblr and Instagram
//