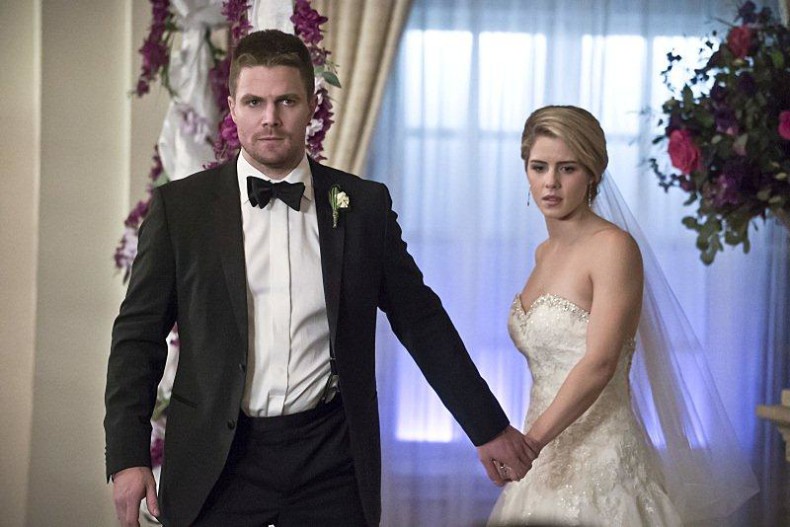 #Arrow Season 4 | Episode 16 by Anna B (@Traveller15)
Cupid is back in Star City and she is killing newlyweds because of her own unhappiness. Oliver and Felicity pose as a happy couple to draw her out. Plus it will deal with the broken relationship of Olicity.
Carrie Cutter aka Cupid (Amy Gumenick) has kidnapped a newlywed couple and tells them "love is a bullet to the brain or an arrow to the heart". She then asks each of them to share their devotion for each other and then she puts an arrow through their hearts.
Darhk is in Court for a preliminary hearing and his attorney advises the Judge that his client is being held wrongly and is being accused of crimes his hasn't done as his name is Kenneth Bender. Laurel Lance is prosecuting Darhk and has evidence to prove he is guilty.
Felicity is packing her belongings to move out of the Loft. She has the use of her legs and is walking like she never lost them. Oliver is finding it difficult to come to terms with their break up. Felicity wants Oliver to cancel the venue for the wedding so can uninvited the guests. Felicity wants to know if she can still be part of the Team and Oliver tells her that she will always be a part of the Team forever and always.
The Green Arrow Team comes back to the lair from a quiet night on patrol. It seems the city is quiet with Darhk in prison. Laurel wants to use Felicity and Thea as witnesses against Darhk. This is where Felicity tells Laurel, Thea and Diggle that Felicity and Oliver are no longer engaged and living together. So the voice of reason, Diggle goes to talk to Oliver and tells him that she will come around and give her time.
Lance needs Green Arrow's help that an old friend is in town. Cupid leaves a note saying "love is dead". Thea knows the identity of the victims as they are celebrities who just had their wedding of the decade as she reads the gossip columns.
Back in Court and Diggle is put on the stand to testify against Darhk when he invaded the holiday party and took him hostage as well Thea and Felicity. Diggle's testimony is shut down against the Defense Attorney when he helped Thea buy cocaine. The case is being lost and Quentin Lance wants to go on the stand to testify. Laurel doesn't want her father to persecute himself as he could go to jail.
Felicity has found the location of Cupid who has kidnapped another wedding couple. Green Arrow, Speedy and Spartan go after Cupid. Green Arrow goes after Cupid on his own but she escapes.
Felicity is trying to work around her feelings after breaking up with Oliver in how she can continue working on the Team. She says love betrayed Cupid and now she wants to go to war. In actual fact, she is reliving her own experience she had with Oliver not telling her the truth about William. Cupid has been a part of the Suicide Squad for the past year and it has not been a good experience for her and has changed her not for the better since she lost her love Floyd Lawton. Felicity is being very sarcastic towards Oliver as she is hurting because of his betrayal to her by lying about William and not letting him trust her.
The Team head to a wedding factory and find Cupid's shine to the celebrity couples she wants to kill. There is a picture of Felicity and Oliver on the board. Oliver wants to marry Felicity to draw out Cupid. They can still use the wedding venue they have booked which Oliver was supposed to cancel. He was hoping Felicity would change her mind but she said it is over.
Lance testifies on the stand on his criminal activity with Darhk. He tells the Court that if he didn't do the things Darhk wanted he would kill his daughter.
We flashback to the island with Reiter holding Oliver and Taiana prisoner as they walk through the cave in search of an idol. Reiter kills one of his men and his energy goes into the idol sitting on a pedestal. It looks like a scene from Indiana Jones movie. Reiter has a tattoo on his arm just like Oliver. Oliver and Tiana escape from Reiter taking the idol but they need to find their way out of the cave and the only way is to go pass him. Not much really happened with the flashbacks.
So the fake wedding of Oliver and Felicity begins. Oliver is in awe of Felicity in her wedding gown. To him it feels real but to her she just wants it over with. They each have written their own vows. Felicity's vows are short and no felling whereas Oliver's vows are from his heart and he means every word he says to her as an apology. Oliver tells her "I was in darkness and with your kindness, your wit and your trust brought me into the light. You were that light. I don't know if I still deserve your trust, if I deserve you, but the way you make me feel is the best part of my life. You are my always and I just want a chance to be yours". He also tells her that he will never lie to her again and then places her ring back on her finger. At that moment Cupid attacks and Spartan and Speedy are on their way. Cupid puts an arrow in Oliver's chest but he is wearing a Kevlar vest under this tuxedo. Cupid tells Felicity and Oliver that love is death because she has lost two of her lovers. Felicity tells her that love is real and is life itself. Because of love she had become the very best person of herself and that love gave Oliver and her life, meaning and purpose and brings joy to them. The words Felicity spoke are real but not to her and Oliver. At that moment Spartan and Thea take out Cupid and she is arrested.
Back in Court the Judge says there is not enough evidence against Darhk but the testimony of Lance is compelling especially as he is willing to incriminate himself to see justice done against Darhk, the Judge denies the defense's motion to dismiss and he will go to trail and no bail. Because of Lance's testimony he is suspended from his duties pending an investigation.
Felicity finds Oliver at the lair. Oliver tells her that what he said at the wedding he meant every word. Felicity tells him she can't be with Oliver and marry him. Oliver swears and promises to her that there will be no more lies. Felicity says there will always be a time you are back on the island alone and you will never change and that we could have it all but she was wrong. Felicity is leaving Team Arrow. Felicity decides that she can't be with him and gives him back the ring. Oliver tells Felicity he doesn't want to let her go and she replies "I don't want to let you go but I am already gone".
Darhk is taken back to his prison cell. He has hidden in his mouth a ring which is places back on his wedding finger. He smiles.
Variety Radio Online – – Bringing you all things Entertainment including News, Reviews and Interviews. Check out our website, like us on Facebook ,follow us on Twitter ,Tumblr and Instagram
//