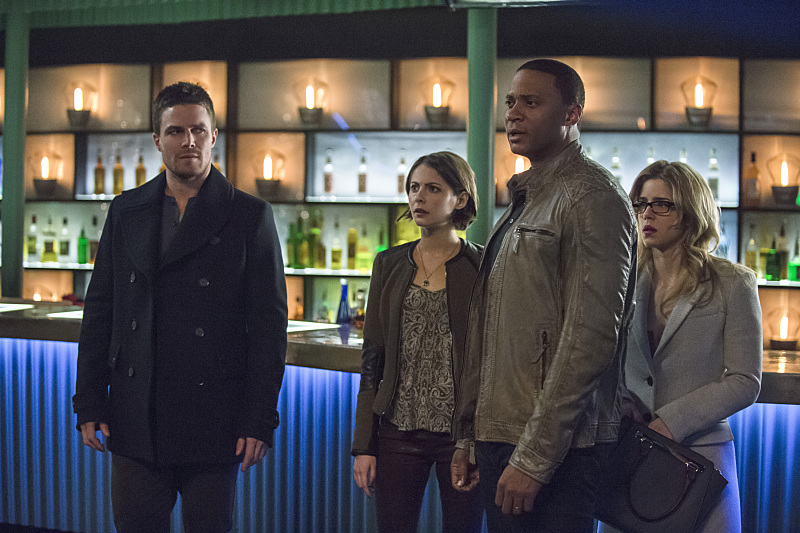 By Anna (@traveller15)
Oliver is put in a position to ask for Ray's help in saving Starling City as a meta-human kills people with blasts of energy and plasma while Lance is still on his vendetta with the Arrow.
The news is breaking that Roy Harper is the Arrow and has been taken into custody. Meanwhile, Starling National Bank is being robbed by a meta-human who can blast energy heat with his eyes.
Roy is taken to SCPD where Oliver has also turned himself in. Lance is not happy that Oliver is going to let Roy take the fall for him, but Oliver has no plans for him to take the wrap. Laurel enters the station as Oliver's lawyer and the DA has agreed to release him as Lance's story that he is the Arrow is uncorroborated as it was only told to him and so it is only his word.
At Palmer Technologies Ray confronts Felicity about him saying he loves her. She still says nothing so he just puts it down to the nano bytes and his life being saved.
Oliver visits Roy in the interrogation room and asks him why? Roy explains to Oliver that the Arrow saved his life so now it is his turn to save his. Roy has so much guilt since he killed the police officer and has been trying to right his wrongs as Arsenal but he is not coping with it. He wants to make it right by saving the Arrow.
We flashback to Hong Kong with Maseo, Tatsu and Oliver in hiding. Oliver is going to walk into ARGUS to find Amanda Waller.
Merlyn meets Oliver at Verdant and tells him that his days are numbered that Ra's will force Oliver to take up the heir to the demon. Inside Verdant Thea watches the news on Roy. Oliver tells her that he plans to break Roy out of prison. In the meantime, the Arrow Team learns of the meta-human robbing banks in Starling City. They think it is because there is no Arrow to stop them rather than in Central City. Lance continues with his vendetta against Oliver and arrives at Verdant with a search warrant to search the basement of the Club. He has Oliver now with the lair being compromised. The police only find finger prints of Roy Harper. Felicity arranged for the lair to be wiped clean of everyone's finger prints. Oliver is losing control which he does not like with the Team taking action to protect him and he cannot protect the city or the police will arrest him again. Felicity suggests that someone else could help save the city from the meta-human.
So Felicity takes Oliver to ask Ray for his help. Oliver relents but agrees to his help.
Oliver finds Amanda Waller who has been held prisoner by General Matthew Shrieve and that he plans to unleash the Omega virus on Hong Kong. Waller tells Oliver to run as far away from Hong Kong and maybe one day they will meet again.
Thea goes to visit Roy at Iron Heights Prison. He didn't want to see her as he doesn't want to lie to her anymore. An emotional scene between them where he tells her he will be fine, but we know it is a lie and I don't think Roy will survive in prison.
Ray goes to investigate at the bank and finds out that the reason you cannot see the meta-human's face is because of the radiation which they need to remove. Ray is able to then do a facial recognition to find Jake Simmons (Doug Jones) as their meta-human. Oliver wants to go after Simmons but Ray says he thought it was a team up with him so Oliver wouldn't get caught as the vigilante. Oliver doesn't think Ray is ready for the task to fight Simmons.
Ray suits up with the ATOM suit searching for Simmons at the last known address. He babbles just like Felicity to which Oliver says "there is a decent chance that you and Palmer are related". Simmons finds Ray and there is a fight between them. Unfortunately, Ray can't win this fight and flies off before getting killed. Ray needs to rely on him and not the suit to survive.
Oliver goes back to the hideout to tell Maseo and Tatsu about Shrieve who is going to unleash the virus to eliminate China as an economic threat and set up the Triad. As they cannot get off the Hong Kong, they decide to steal some of the vaccine.
Roy is being moved from his cell, when the inmates attack the prison guards and attack him. Roy gets slashed on the back but is able to take down the inmates.
Lance now turns up at the Loft to turn it upside down looking for evidence against Oliver. Lance gets the call about Roy's attack and tells Thea.
Ray has worked out that Simmons absorbs energy and turns it into weaponized plasma. Thea turns up at Ray's office and tells Oliver that Roy was attacked by the inmates. Oliver is now more determined to break Roy out of prison. Diggle is the voice of reason and tells him to stand down or he will lose everything. Oliver conjects that he has already lost everything and doesn't want to lose Roy as well. Oliver storms out of Palmer Technology with Felicity chasing after him. Felicity in her usual way tells Oliver that he is struggling not being in control and not being able to help Roy and maybe land in jail if he does anything. He needs to trust his Team to help him. Felicity tells Oliver that he has sacrificed everything to be the Arrow and their relationship and if he does break Roy out of prison there still will be no more Arrow. Ra's took it away from him. Oliver tells Felicity that he was once told that you cannot live by two names but at the moment he cannot live with one name. Felicity nearly tells Oliver that she loves him but changes it to say he is the man she believes in. Felicity leaves to go upload the transponder software to the power source to lead them to Simmons.
Back in Hong Kong Oliver, Maseo and Tatsu break into an army base to find the vaccine and steal it.
Lance visits Roy at Iron Heights to try and save him and to confess about Oliver.
Felicity goes to the power station to upload the software but runs into Simmons. Ray realizes that Simmons is at the power station where she is. Simmons answers her phone. Felicity draws Simmons close to a steam vent and releases it on him so she can escape. Oliver wants to go out to save her. Ray will have to be the one in his ATOM suit to save her this time with Oliver taking over controls of the suit in virtual reality to help Ray fight Simmons. In the fight with Simmons, the transmitter is severed and Oliver loses control to help Ray. He is now on his own to take him down. Oliver tells Ray to trust his instinct and is able to knock Simmons out.
Roy is being moved in the prison and a prison guard stabs him leaving him to die. Lance delivers the news to Thea at the Loft. As Oliver walks in to the Loft, Lance leaves blaming him for the death.
Oliver goes back to the lair blaming himself for Roy's death. Felicity and Diggle turn up and he tells them that he should never have listened to them but should have tried to save him. Diggle wants Oliver to forgive them for what they did. In a twist, Roy walks into the lair. They planned the stabbing with one of ARGUS's people and gave him a beta blocker to slow his heart down. Now everyone thinks the Arrow is dead and Oliver Queen will be innocent. Oliver has to accept that the Team saved him for once. Roy must leave town and start a new life and identity. He says his farewells to the Team but not to Thea. She will be quite pissed. Felicity asks Oliver on a scale of 1 to 10 how mad is he at them for saving his life. He says he has to learn to let people help him in which she replies he needs the practice. They have an intimate moment where Felicity tells him that he is too focused on the people he loves and doesn't see the people that love him. Meanwhile, Ray is watching the two of them and I sense he is now realizing how close the two of them really are.
We end in Hong Kong with Oliver planning to go and retrieve the virus with Maseo, Tatsu and their son to take the vaccine. Tatsu does not agree and tells Oliver that "he needs to learn to the let people help him".
Ray takes Simmons back to S.T.A.R Labs at Central City to be locked up in the pipeline. Cisco and Ray come up with a name for the meta-human "deathbolt". Cisco finds out that Simmons was not in Central City the night of the particle accelerator explosion so how could he be a meta-human?
Thea is at the Loft mourning Roy when she is paid a visit by Ra's al Ghul. Ra's tells Thea that Oliver will take his place and beg him to allow doing it. Thea tries to throw a knife at him unsuccessfully and fights him but Ra's stabs her. Is she dead or just hanging in the balance alive? This will certainly make Oliver's have to decide with the Offer if he is to save his sister with the Lazarus Pit.
Twitter: @TheVRO
Facebook: Variety Radio Online
Tumblr: Variety Radio Online