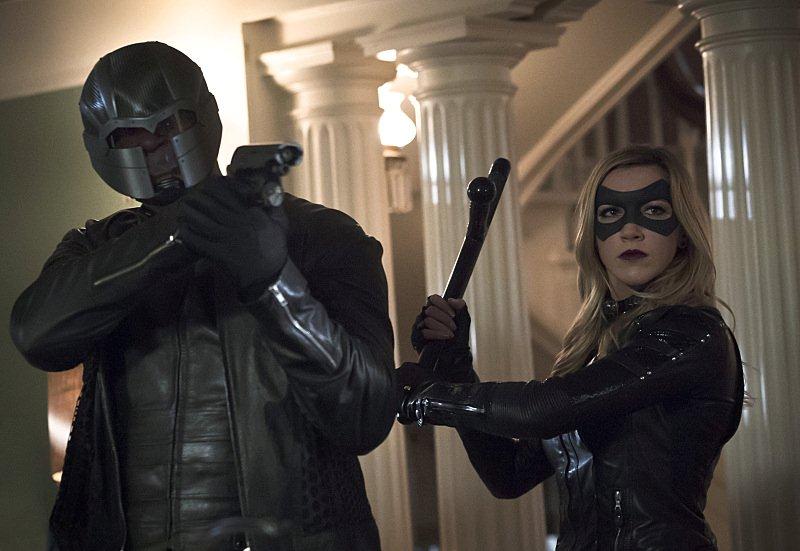 By Anna B (@traveller15)
Arrow is back premiere midseason and Oliver is on a vendetta to find Darhk and bring him down after the devastating attack on him and Felicity.
We begin where we left off midseason finale with Oliver standing over a grave telling Barry that it wasn't his fault but his responsibility to end it and kill him.
Present day Felicity is rushed to hospital as the med teams work frantically to save her life. Meanwhile, we flash to Oliver who is slipping back into his dark ways going on a rampage killing Ghosts to get answers on Darhk's location. He won't go and see Felicity before her surgery as he knows she would want him to continue his search for Darhk.
Laurel, Thea and Diggle go and visit Felicity in hospital as she is prepped for another one of her surgeries to repair nerve damage.
Diggle goes to visit Andy locked up in the cage and beats him up for answers. Lyla tells Diggle to not treat him as one of Darhk's Ghosts but to treat him as his brother and he may relent.
Oliver goes to Lance as he is out of options to find Darhk and wants him to give up his base of operations. Of course, Darhk will know that Lance has double crossed him and will now be on his radar. So Oliver goes to Darhk's hideout only to find the Ghosts dead and Anarky's symbol on the wall. Oliver heads back to the lair trying to find answers as to why Lonnie Machin aka Anarky (Alexander Calvert) is after Darhk. Thea is also concerned Anarky is back as she burnt his face and may come after her.
Thea and Laurel go to the hospital to visit Felicity and to Laurel's surprise find Lance and Donna hugging each other.
The Arrow Team pay a visit to Anarky's adoptive parents' house where Anarky is actually waiting for Darhk's men but instead is still happy to see the Arrow Team and sets his trap of machine guns firing on them. They manage to apprehend Anarky and interrogate him as to where Darhk is. Thea gets a call that Felicity is out of surgery and that Oliver needs to be there for her as it doesn't sound good. Thea stays to watch over Anarky but her bloodlust to kill is strong only thwarted by the arrival of SCPD to arrest him. Oliver gives Anarky his freedom so that he can kill Darhk but at the same time places a tracking device on him knowing he will go to Darhk.
Diggle goes to talk to Andy this time as his brother. Diggle tells Andy "it doesn't matter if Darhk wants to save the world he crossed a line" when a good friend of his was hurt who didn't deserve it and for him to tell him where he is located. Any relents and tells him Stonehaven.
Oliver rushes to the hospital where he finds a distraught Donna who tells him that the damage to Felicity's spinal cord is permanent and that she will never walk again.
Back at the lair, Diggle tells Oliver that he has his back but that he has recovered his humanity he lost through his love of Felicity and not to let his vendetta of Darhk let him go backwards. The Team tells Oliver he must go be with Felicity and they will figure things out with Anarky. At this point both Oliver and Felicity need each other.
Thea visits Alex at campaign headquarters to tell him that she can't have a relationship with him. Alex tells her he will wait for her.
Oliver goes to Felicity's bedside and he tells her that he blames himself and what is the point of being the Green Arrow if he cannot protect the ones he cares about. Felicity tells Oliver that "we haven't exchanged vows, so the whole for better or for worse thing doesn't apply". The nurse took Felicity's engagement ring off her finger in the ER and Oliver places it back on her finger say "for better or for worse".
Laurel goes to Oliver and tells him that they have an address on Darhk at Stonehaven. Arnaky has Darhk's wife and daughter tied up. The Arrow Team manages to free Darhk's family. Darhk arrives home and a fight between Oliver and him occurs. Oliver tells him that he saved his family and for that Darhk will reprieve from killing him. Anarky managed to get away. It appears that Darhk's wife has a fake identification but she appears to be in on his plans to reset the world with Genesis.
Diggle goes back to see Andy to have a card game with him like old times growing up. Could this be a step to reconciliation?
Thea asks Alex over to the apartment and she tells him that he was right that she is stronger and they kiss.
Meanwhile the island flashback has Conklin finding Oliver with Taiana alive with maps of the island. Oliver is in bad shape from the shark attack. Conklin takes Oliver back to camp to Reiter for punishment and where Conklin has the great pleasure of whipping him. So now we know how the scars were made on Oliver's back. Reiter notices the tattoo on Oliver that Constantine gave him and believes Oliver may be a key to his plans. Oliver forces his hand with a gun he manages to grab and will only agree to help Reiter if he keeps Taiana alive. Oliver and Taiana are then locked up in a prison.
Back at the hospital Oliver waits for Felicity to wake up. When she does he asks her to go to Bali with him. She says she will go anywhere with him but if Darhk is still around there is work to be done.
The episode ends four months from now with Oliver getting in a limo in which are very upset Felicity is and asks her if she is ok. Neither of them are. She tells him that he needs to kill the son of a bitch.
So who is in the grave? Could it be Donna Smoak? Also we note that Felicity is no longer wearing her engagement ring. Whoever is in the grave could of cause consequences to their relationship or could she have found out that Oliver has been keeping a secret from her that he has a son and he doesn't trust her enough to tell her and she ends the relationship?
Variety Radio Online – – Bringing you all things Entertainment including News, Reviews and Interviews. Check out our website, like us on Facebook ,follow us on Twitter ,Tumblr and Instagram
//