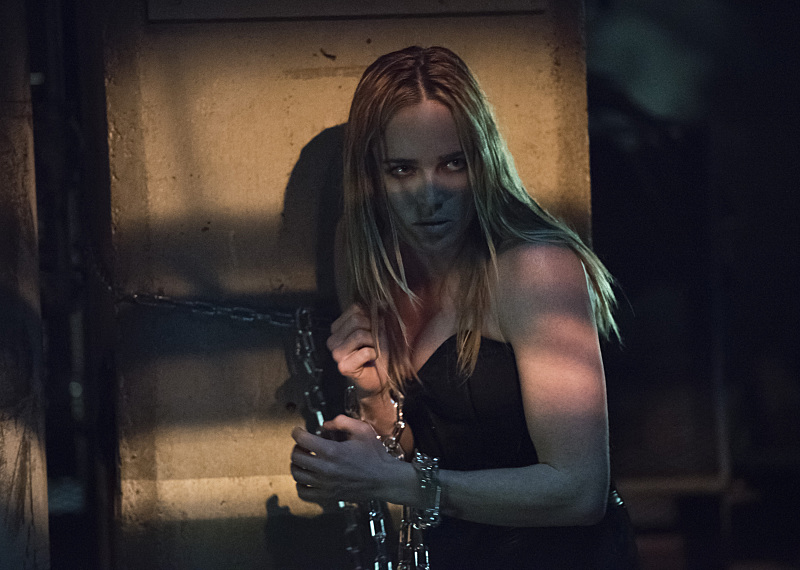 By Anna B (@traveller15)
Lance redeems himself with Oliver so they can save their city and Oliver announces his candidacy for Mayor as well as Laurel dealing with the consequences of resurrecting Sara.
Downtown a drug deal is going down but some corrupt SCPD cops lead by Liza Warner kills the dealers plus two police officers who arrive at the crime scene.
Oliver asks Laurel, Thea and Diggle to meet them at Sebastian Blood's old campaign office where Oliver has a big announcement. As Oliver and Felicity walk into the office, Thea thinks it is the announcement of an engagement to Felicity "saying where is it, why aren't you wearing it". Felicity is unaware of what Thea is talking about. Of course, that will come later in a few episodes. The announcement is that Oliver is running for Mayor. The Team is a little shocked and not sure if it is the right thing for Oliver to be doing. Palmer Tech is helping fund the campaign. So Oliver has another announcement and leads them to an elevator down to the basement. Wow a new state of the art lair – help built from S.T.A.R Labs and Cisco for the Team (with a few kinks to work out with the electricals).
Meanwhile, Laurel tells Thea not to tell Oliver about Sara being brought back to life. She is feral and needs to more time to come to terms with her old self.
Laurel tells Oliver when he goes to visit Lance, not to tell his that he is running for Mayor as is probably won't get his vote, but he does in any case. Lance's budget is undercut and he cannot get the SIM card examined. Oliver takes it for Felicity to deal with and finds the location. The Team suite up and find a warehouse full of armoury belonging to police who must be corrupt.
Curtis tries to figure out who the Green Arrow is without any luck. Felicity scolds Curtis for pranking her cell phone as the IP address is coming from his workstation. He swears it isn't him as he wouldn't use a 2013 code. Curtis is familiarised with the code which is coming from Ray Palmer's prototype hand. This may throw some light into how Ray died. Felicity doesn't want to find out how Ray died and won't give Curtis the password to login to his computer. Could Ray be still alive and trying to communicate to Felicity?
Laurel takes Lance down to the basement of her apartment to show him Sara who is chained up. Laurel tries to help Sara find her way back to them by showing her photos of her life to bring back her memories.
To catch the corrupt police, Thea goes to her drug snitch to get drugs. Oliver tells Lance about the corrupt police in his precinct and wants to be there for the bust. The cops are from the Anti Vigilante Task Force gone rogue. Unfortunately, things don't go down so well to capture them and they get away. They head back to the new lair taking Lance with them. So Lance now knows everyone who is working with the Green Arrow. Lance seems to be back on their side helping now offering police resources.
Curtis calls Felicity to the office and wants the password to resolve Ray's death. She can't go through having to listen to his voice. Curtis takes no for an answer as he had a brother who died of pancreatic cancer and would give anything to hear his voice one more time.
Lance has a meeting with Damien Darhk who goes to him for help with Sara regarding the effects from the Lazarus Pit. His advice is to put her down as she has no soul.
Oh something we haven't seen for a long time, the salmon ladder, oh yes with Oliver shirtless. Felicity is so glad they came back even just to google eyes at him on it. Felicity was able to log in to the precinct's computer and run traces on all the traffic cameras. What they see is Lance having a meeting with Damien Darhk. Oliver goes to Lance's home and confronts him about it. Lance always held Oliver in contempt and now Lance is in bed with the devil. He only went to Darhk as the city was falling apart and needed help as the Arrow was gone but when he realised who Darhk was, it was too late. Darhk had threatened Lance with Laurel. Oliver tells Lance to stop hiding behind his daughter and that he only wanted him to see the man Oliver really is and has become.
Lance goes down to the basement to see Sara. He plans to kill her but Laurel intervenes. As Lance leaves Laurel's apartment the anti-vigilante team kidnap him and take him to the Contraband Disposal Facility. They are after all the drugs. Felicity gets a fix on them and this time the Green Arrow Team captures them. Warner knifes Oliver in the back and has a cord around his neck. It is Lance that talks her down to save Oliver's life by saying believing that he and the city are not beyond redemption.
Lance gets another visit from Oliver at his home. Oliver and Lance patch things up as he believes in Lance who wants to save Star City. He wants Lance to stay as insider in Darhk's inner circle to spy on him for Oliver.
On Lian Yu in the flashbacks, Oliver hides the woman in a cave and gives her a quick rundown of how to survive on the island. In return Oliver wants something in return. Oliver heads back to the camp. Conklin wants proof of the woman's death. Oliver takes Conklin to the cave to show him that the woman is dead, but she is not. Oliver used a technique to make it appear she was dead. I think Oliver's luck has run out as Conklin finds Oliver's backpack with radio and messages from Waller.
We end the show with Oliver returning back to the campaign office to be surprised with an office full of interns. Thea will be his campaign manager. So Oliver's announces his candidacy that the city will be reunited and that after 5 years of hell he returned home with only one goal to save his city with the help of the people, family, loved ones, those we trust and the ones we will trust again together united.
Felicity logs into Ray's computer and hears his voice who says "I'm sorry Felicity, this is my fault".
Laurel goes down to the basement to see Sara. She is gone.
Variety Radio Online – – Bringing you all things Entertainment including News, Reviews and Interviews. Check out our website, like us on Facebook ,follow us on Twitter ,Tumblr and Instagram
//