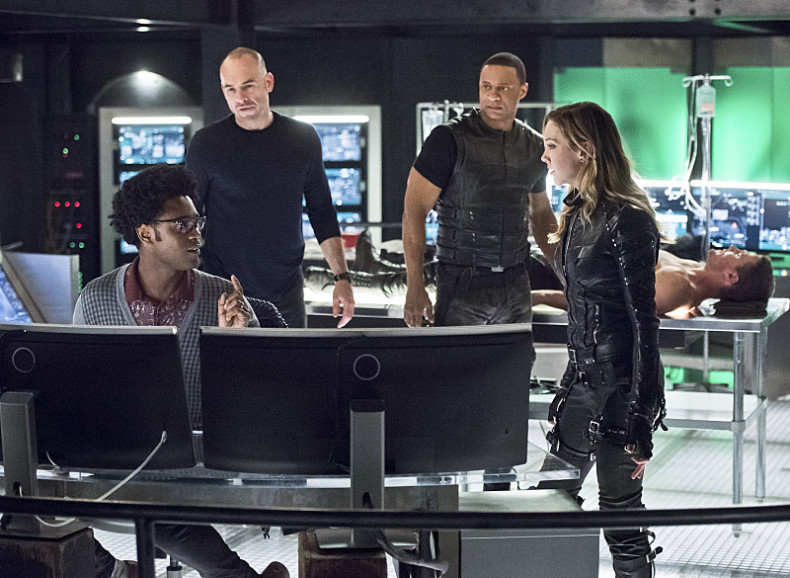 Felicity, Thea and Donna are being held hostage at Palmer Tech by an old enemy who is after Felicity's bio-chip implanted in her spine.
Brie Lavan aka Bug-Eyed Bandit (Emily Kinney) is using her computer time at Iron Heights Prison to hack into her prison record and change her parole date to today.
Oliver is sparring with his Team and taking out his frustrations on them with his loss of Felicity. Things in Star City a little quieter since Darhk is locked up, but they still have to find HIVE. Thea gets a message from Alex advising her he is going to work for Ruve Darhk on her election campaign. Oliver doesn't want to run for Mayor. Laurel suggests Alex could work at Palmer Tech as they are hiring a new Head of Relations.
On the island in the flashbacks, Oliver and Tiana try to take down Reiter. Tiana shoots him but his magic protects him. Reiter gets his power from killing people and knocks Tiana out for not giving back his idol. He wants to become a God.
At Palmer Tech Felicity and Curtis are going over how they can reduce the costs to produce spinal implant biochips to help other people with spinal injuries. Felicity needs to get it pass the Board. In the meantime, Curtis is suffering a cold and ordered home to bed. Felicity gets a visit from her mother, Donna, to cheer her up after the breakup. Thea also pays a visit to Felicity regarding Alex and Felicity will do everything to help him.
Darhk is locked up at SCPD and is paid a visit from Merlyn. Merlyn explains to Darhk that his resources are unhappy with him. HIVE is going forward with genesis without him. Darhk has lost his powers when he tries them on Merlyn. Merlyn says "performance issues are common for man of your age".
Oliver pushes himself with sparring. Laurel wants to help him through his pain of missing Felicity.
The Board is waiting on Felicity in the conference room when Phil collapses and all these bees come out of his mouth killing him. Brie Lavan is looking for Felicity and wants the implant for the bio-stimulant microchip which is inside her so she holds the Board members' hostage. She has jammed all communications so no signals are getting out. Brie's traps the building with robot bees swarming around the building while Felicity, Thea and Donna are held in her office. They need to find a way to get out. The only way out is through the air-con vents.
Curtis sees the news flash on the bees at the office and rushes off to the campaign office and finds the elevator which takes him down to the lair. Curtis discovers that Oliver is the Green Arrow, Diggle is Spartan and Laurel the Black Canary and then passes out. Oliver is not too happy with Curtis. Curtis is in awe of everything in the lair especially the computer system. Curtis is going to help the Team to get them into Palmer Tech.
In Iron Heights Prison some prisoners take it upon themselves to beat Darhk up. In the meantime, Darhk blackmails Amar (who lips are sewn up) to killing the prisoners that beat him up.
The girls manage to hide in a janitor's room but a robot bee gets in. Curtis hacked into the bees to shut them down but only for a short time which allows Team Arrow into the building before he is knocked out by Brie. She creates a bee man which stings Oliver. The bee is inside him and he is rushed back to the lair. The bee replicates itself inside Oliver. Curtis figures it out that if they use a high radio frequency it will lure it out. So Laurel uses her canary cry.
The girls use the secret elevator to get to the conference room to save the hostages and take Donna to the sublevels to get out of the building. Felicity and Thea are caught by Brie. The reason why Brie wants the biochip is because she has a tumor on her spine and if she has surgery to remove it, it will leave her paralyzed and the biochip will enable her to walk.
Oliver lashes out on Curtis because he is over excited and constantly joking on having a win with the bees. Laurel pulls Oliver aside to tell him to pull it together. Oliver believes it is not fair that he can save the city but not his relationship. Laurel tells him he is a "Beacon of Hope" to people and would like him to use some of that hope for himself.
Thea would like Felicity to rejoin the Team. Thea says they are the "Beacon of Hope". Felicity quit the team as she couldn't work with Oliver but she wants to make a difference why she is out. Brie has the blueprints and while looking in the computer system found out that Felicity was the hacker that sent her to prison.
Curtis has rigged a computer virus payload arrow so when Oliver shoots at the bees it will destroy them. Oliver makes it into the Felicity's office to fight with the bee man. Thea and Oliver get knocked out. Felicity has the great idea to use the lamp and electrocute him. Felicity thanks Oliver for saving her and he says "she never has to thank him".
Meanwhile, the bee that was inside Oliver has come to life and attacks Lance and Curtis in the lair. Lance uses a coffee pot to squash the bee.
Brie shoots Oliver. Curtis manages to hack into the bees and they sting her overdosing her on toxin and placing her in a coma.
Oliver, Laurel and Diggle head back to the lair to find it smashed up. Oliver tells Curtis that he did good and welcomes him at the lair any time.
Curtis heads home to a worried husband wondering where he has been all this time.
Thea asks Felicity if she misses the thrill of taking down criminals. She was never in it for the thrills but wanted to make a difference and be part of the "Beacon of Hope". Felicity wants to remake Palmer Tech and use the technology to make her walk be available for others and make Palmer Tech the Beacon of Hope.
A surprise ending with Merlyn meeting with Darhk's ace in the hole being none other than Andy Diggle.
Variety Radio Online – – Bringing you all things Entertainment including News, Reviews and Interviews. Check out our website, like us on Facebook ,follow us on Twitter ,Tumblr and Instagram
//