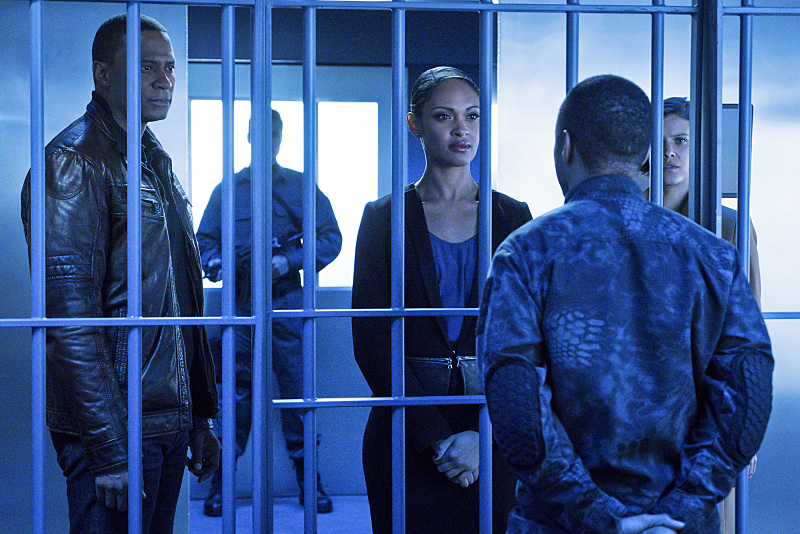 By Anna B (@traveller15)
Felicity and Oliver have to learn to live with the challenges of her disability and Diggle has to trust his brother when an enemy Shadowspire comes to Star City.
Diggle and Lyla have a night out and as they walk home Alan Chang an ARGUS agent approaches them telling them that he has been compromised and needs Lyla to get a message to Amanda Waller. Unfortunately, before he can tell them the message they are confronted by gunman and Change is kidnapped. Diggle is shot trying to prevent the attack.
Felicity is home at the Loft and Oliver is taking good care of her. They both are coming to terms with the challenges she faces not being able to walk. Felicity feels she cannot be a part of the Green Arrow Team but Oliver tells her otherwise that her superpower is her mind and she says there is a lot going on in it. She feels she is not ready to come back to the Team yet.
Oliver goes to lair to see how Diggle is and to figure out how they can find Chang. Diggle goes to see Andy taking him a cheese burger and to get information.
Felicity is at home at the Loft dealing with her new life in a wheelchair. She takes some pain meds and begins to hear voices of herself when she sees an image of herself from the past. She hallucinates about her feeling pity and her past life she was a hacker college and re-evaluates her life and choices she has made to date to playing a superhero and look where it got her.
Chang is found dead. So Lyla and Diggle go to see Amanda Waller at ARGUS for answers whom appears not to be co-operative. But when Lyla and Waller shake hands she passes a flash drive into her hand. Waller couldn't been seen to be helping but the flashdrive has information on Shadowspire – a US Army special forces unit which ARGUS took down 3 years ago as war profiteers who are on a payback mission. Diggle decides it is time to talk to Andy about Shadowspire. There are still 2 other agents missing which need to be found before Shadowspire find them.
Diggle goes back to see Andy and asks him about Shadowspire. Can Diggle trust him to divulge information on Shadowspire and where the agents will be held? The Green Arrow Team head to a free port but they need Felicity's help to get access. She is able to get into the security system but the Team find the 2 ARGUS agents already dead. Felicity accidently tripped a failsafe and Diggle gets caught. Oliver manages to save him and they get free.
Oliver goes home to Felicity who feels bad for what happened to Diggle. Oliver tries to tell Felicity that if she got back behind a keyboard, things would feel normal, but to her superheroes are not considered normal. While Felicity talks to Oliver about her insecurities she hallucinates with Goth self and loses it and tells Goth self to shutup and leave her alone for a while. Except Oliver thinks this is aimed at him and he leaves her alone.
Diggle takes Andy to an ARGUS prison so Waller can debrief him on Shadowspire. Andy tells Waller that they are not after a shipment of rail guns it would be a destruction to go after something else.
At the lair Laurel spars with Oliver and notices that he is beating himself up about Felicity. Oliver tells Laurel about Barry who can travel through time and that when he changed the timeline this is why it happened to Felicity.
Goth self tells Felicity that when Cooper died she changed her appearance from Goth and said she would never have anyone help her ever again and it would be her against the world. The demons are coming out as Felicity tries to fight against the battles she faces not being able to walk and having to go through life with the help of others now.
The Green Arrow Team goes after Shadowspire who are after a shipment of railguns. Lyla goes back to ARGUS and Diggle babysits Andy. There is no movement on the rail guns as Joyner of Shadowspire has infiltrated ARGUS. Lyla manages to alert Diggle to the invasion. So the railguns were a distraction and ARGUS was what Shadowspire was actually after. Joyner is after Rubicon and he will kill an agent every 20 minutes until he has it. Can Diggle alert Oliver that ARGUS has been compromised?
Instead of our flashbacks being on the island, we flashback to when Diggle and Andy were in Afghanistan in 2005 who both go on a mission together to stop a shipment of Taliban drugs buying weapons. They get pinned down but the Diggle brothers manage to get to safety. They are approached by Joyner that they could work together if some of the drugs they confiscated went AWOL and make some money. Andy goes rogue and joins Joyner dealing in drugs. But the man behind Shadowspire is Reiter who has traded the drugs for a map of Lian Yuan to find its magical powers.
Felicity goes to the lair and she tells Oliver that she is the person who wanted to go along on a superhero adventure to help people instead of being the old Felicity full of anger. Felicity tells Oliver that it is not his fault for what happened to her. It is the fault of one evil man, Darhk. They are going to stop him as it is what they do and who they are. The feed comes through advising Oliver of the ARGUS compromise.
As Waller wouldn't give Joyner Rubicon he shoots and kills her. Now Lyla has 20 minutes to give him what he wants. Andy talks Diggle to trust him and let him help to save Lyla. The Green Arrow Team arrives at ARGUS with Felicity monitoring the situation from the lair. Oliver gives Felicity a codename "Overwatch". He thought it was time she had one and was going to go with Oracle but it is taken. F Felicity is back. With the help of Andy and Green Arrow Team they manage to stop Joyner.
Back at the lair Lyla and Oliver toast to Waller's memory.
At the end of the day back at the loft Felicity asks Oliver to bring her a box which has photos of her back in the days of being a rebellious hacker. She burns her photo so the past stays the past. Oliver says even though her condition is permanent it is not healthy or productive for either of them to live in denial but he has seen people speed, shrink and fly and come back from the dead and that is the world they both live in now and he will not stop searching it until he finds away for her to walk again.
Diggle takes Andy home to live with Lyla and him. He also introduces Andy to his niece Sara.
Variety Radio Online – – Bringing you all things Entertainment including News, Reviews and Interviews. Check out our website, like us on Facebook ,follow us on Twitter ,Tumblr and Instagram
//