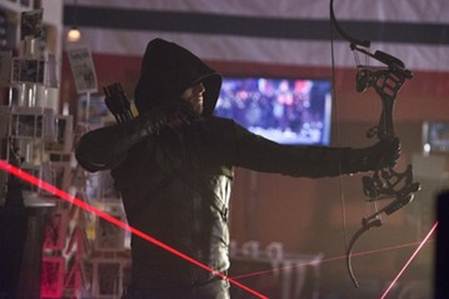 By Anna
We are back from hiatus and five weeks have passed where we pick up where Oliver is trying to find information from criminals in Starling City about the skull mask but seems to be coming up with no answers.
Felicity is in Starling City spending time at Barry Allen's bedside who is still in a coma after 5 weeks after the lightning strike. You can sense that Oliver is not happy about it plus he is frustrated and tense no being able to find the man in the skull mask. He is spooked because of what Mirakuru can do.
Our first flashback on the island is Slade, Oliver and Sara burying Shado next to her father. Slade gives Oliver the hood that Shado wore in memory of her father. Oliver is guilty that he chose Sara over Shado and wants to tell Slade about her death. Sara talks him out of it advising that the Mirakura has changed his mind.
Click The Banner To Hear Mike(IwatchMike.Com) Dj Wicked (FREE Mixes)and Anna (TheVRO.com)


Back in the present at the DA's office we see Laurel popping pills. She wants to investigate Sebastian Blood because of his relationship with Cyrus Gold. So she goes on a date with him.
A fundraiser for the mayoral campaign is being held for Blood at Verdant hosted by Oliver Queen. It seems Oliver is chumming up to Blood.
Oliver asks Thea about Roy how is doing. Moira makes an appearance and is happy with Thea for taking over and running Verdant from Oliver who she thought treated it like a hobby and that she made it into a successful business.
Another new DC villain appears this week Mark Scheffer (Shrapnel) played by Sean Maher a serial bomber placing Starling City in terror as he hates the Government and threatening the life of Sebastian Blood. He sets off a bomb in a building. Diggle eventually taps into the police computers to find out the situation after the bombing. They are struggling without Felicity (where is she when you need her). Arrow goes to help rescue the people who are trapped in the building.
Back on the island Slade wants to go after Ivo to kill him. He is aggressive and when Oliver tries to stop him, Slade picks him up in the air to strangle him for defending Sara. Sara hits Slade over the head with a tree branch to release Oliver. Slade has no idea of his strength and how Mirakura is messing with his head.
Felicity comes back to Starling City after hearing the news of the bombings. Oliver is pleased to have her back.
Laurel goes to see Blood at Campaign Headquarters. She questions him about Cyrus Gold and their relationship. Blood tells Laurel that he was an orphan. His father was abusive and his mother shot him and then disappeared. This was the last time he saw his parents. This upsets Laurel but she is still suspicious of Blood. She sees on his desk a bill for hospital expenses for Maya Resik which she will investigate further.
Thea is concerned for Roy but he doesn't want to talk about what is going on with him. They start to make out and a crate of glasses is knocked slashing into Roy's arm. Thea goes for the first aid kit. It won't be needed if Mirakura can heal the cut.
A meeting is set up with Lance and Arrow on the rooftop. Lance asks "what's with the mask" in which Arrow replies "a gift from a friend" and Lance says "you got friends". Lance gives Arrow some fragments from the bombing for analysing. Lance would like a favour in return copies of the cell records of the cops he works with as he suspects there is a mole in the Department. In the meantime, another bomb goes off.
Felicity tracks the movement of the bomber and Arrow gives chase on his motor cycle but Felicity loses his trail. Shrapnel is using cellular technology to detonate the bombs. One very annoyed Oliver comes back to the lair for a confrontation with Felicity. "People are dying so I would like you to get your head out of Central City and get back into the game". Felicity responds "as soon as you get yours out of your ass". Felicity is standing up to Oliver a lot more now. Diggle tells Oliver that he never had a problem with Felicity's performance until she met Barry Allen. He obviously is having some jealously issues.
Laurel goes to her father to ask him to find out information on Maya Resik. We find out that Maya is Blood's aunt in St Walkers Hospital Mental Institution.
Sebastian Blood has a press conference in which he announces that he is going to hold a rally that the bomber is not a threat to Starling City. Arrow goes to talk to Blood to talk some sense into him not to hold the rally as he could be a target for the bomber.
Back in the lair you can feel the tension between Oliver and Felicity. Felicity has tracked down the bomber who is "Shrapnel" who belongs to a group called "The Movement" and he is located at an antique shop. Oliver sends Diggle to the rally while he goes to the store. Arrow falls into a trap by motion sensors. If he moves the store will blow up. Felicity finds a way for Arrow to get out not before she says to him "are you sure you want me doing this my head might not be in the game". He shoots an arrow into the fuse box.
Everyone appears to be at the rally, Moira, Thea and Roy. Diggle finds the trigger for the bomb in some speakers. Before Felicity can diffuse it Shrapnel approaches them and shoots Diggle in the shoulder. A bomb is thrown at Blood but Arrow shoots an arrow into the device. Some lighting equipment falls which falls straight for Moira. Roy shields her from the falling equipment and lifts it off himself.  Thea witnesses this event.
Arrow goes after Shrapnel on his motorbike. To stop him, Arrow puts an arrow through the detonator chord which will set of explosions around the plaza and punches him in the face.
At Verdant Thea confronts Roy about what happened and how he saved her mother. She notices his arm has healed in which he responds he is a fast healer.
Back at the lair Felicity says that with Oliver dropping fewer bodies Starling City should build a bigger goal as she watches Shrapnel being arrested by the police. Oliver says sorry to Felicity. Oliver tells Felicity that when she was in Central City he realised how much he needs her. He confesses how he needs Diggle and her and relies on her. She is not an employee she is his partner. Oliver tells Felicity to go to Barry to be with him when he wakes up. There is a touching moment between the two.
Back on the island Ivo contacts Oliver with a walkie-talkie to give up the Mirakura or he will send his men after them. Slade has disappeared with the Mirakura.
Laurel goes to the Mental Institution to see Maya. Maya tells Laurel that she is not his aunt but his mother. He put her in there to stop her telling anyone that he actually killed his father. She says he is the devil. He is not to be trusted.
Arrow goes to see Blood and they agree to protect Starling City together with a handshake.
Twitter: @TheVRO
Facebook: Variety Radio Online
Tumblr: Variety Radio Online