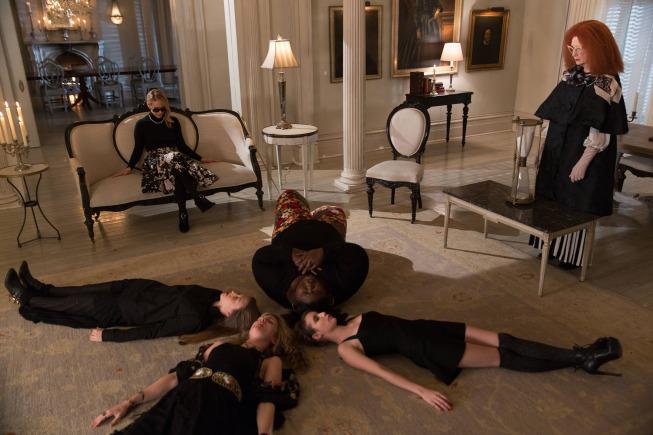 American Horror Story S3 Episode 13 "The Seven Wonders"
By: Lexie Gerson —January 29, 2014
A new Supreme rose to power while three witches fell during the American Horror Story: Coven finale. The episode entitled "The Seven Wonders," began with a glorious performance by Stevie Nicks. Nicks started the show off perfectly as she walked around Miss Robinchaux's Academy singing her infamous song "Seven Wonders" while the witches prepared for the Supreme test.
After Nicks' performance Myrtle Snow (Frances Conroy) led the young witches through their tasks, The Seven Wonders. The witches eased through their first few tasks but when it came time to journey into the afterlife Misty Day (Lily Rabe) did not make it back. Instead, she was trapped in her own personal hell, which involved a biology class, a frog dissection and its revival. Basically, her hell was killing a living thing for eternity. Yet, it wouldn't be a finale without a humorous remark from the diva, Madison (Emma Roberts) whose personal hell was a live TV musical version of The Sound of Music. "And I wasn't even the lead, I was Liesl."
After the loss of Misty Day, which devastated Cordelia (Sarah Paulson), the witches continued their tasks. Next up, teleportation. Zoe (Taissa Farmiga), Madison and Queenie (Gabourey Sidibe) used this task to have a little fun with a game of tag. Although, Myrtle and Cordelia gave the girls warnings there little fun game turns deadly. As the girls frolic around the yard with their teleportation skills Zoe ends up impaled on a fence spike causing Kyle (Evan Peters) to scream in horror.
Cordelia and Queenie attempted to revive Zoe but were unsuccessful. Cordelia asked Madison to bring Zoe back to life but she refused, even though she had the ability to restore life.
Facing the prospect of Madison as the next Supreme, Myrtle realizes that she has been overlooking another potential Supreme, Cordelia. Cordelia who is witch royalty is a clear contender. Cordelia flies through the Seven Wonders, including Divination effortlessly. When the young witches reach the task of Divination, Madison fails to complete the task and storms off, bitchier than ever. She threatens the Coven by saying that she will tell TMZ everything.
As Madison packed her bags, an angry, grief-stricken Kyle stormed into her room. Furious that she did not try to save Zoe he strangles her to death. For a powerful witch she certainly didn't try to save herself. Oh well!
After her strangulation, the ghost of Spalding (Denis O'Hare) appeared with his porcelain baby hand, which he used to brush Madison's hair. Kyle asks Spaulding who he is and he responds with "the help." Spaulding then offered to help Kyle bury Madison's body so the witches wouldn't find out. Kyle's act of revenge is quickly sought for nothing. In the greenhouse, Cordelia has brought Zoe back to life, restored her sight and completed the Seven Wonders.
All hail the new Supreme!
Cordelia reveals the coven to the world in an interview with Jake Kane (Kyle Secor, Veronica Mars). After opening her coven doors on national television Cordelia invites a new generation of witches to come to New Orleans. Before the new witches arrive Myrtle demands Cordelia to punish her for murdering the Council members. Cordelia opposes, saying that Myrtle has been a mother figure to her and she cannot lose her. Myrtle demands to be held accountable and for Cordelia to be a true Supreme, a Supreme who follow the rules.
Myrtle is once again burned at the stake.
Before she can welcome a new class of young witches to the Coven, Cordelia must take care of something. Her mother. Former Supreme, Fiona (Jessica Lange) returns. Couldn't have a finale without Jessica Lange! Turns out she wasn't dead she planned the entire death with Axeman. But now, she is clearly dying. The mother and daughter have a heart to heart and Fiona dies in her daughter's arms.
But we couldn't let Fiona go that peacefully, could we? Fiona awakes in her own personal hell, which involves a crummy, fish infested home with the Axeman (Danny Huston). It appears Fiona died and went to hell at the hands of Papa Legba (Lance Reddick), who enjoys a good chuckle watching Fiona suffer in her new eternity.
The season finale ends with Cordelia beginning her reign as Supreme. She appoints Zoe and Queenie as her Council and opens the door to a plentiful group of young witches. Kyle takes on the role of 'the help' and remains as guard dog.
In the last scene we see a new Coven ready to flourish, at the hands of 'good.'
While we are saddened to see such a great season come to an end, we are thrilled with anticipation for Season 4. Creator, Ryan Murphy has already hinted as to what Season 4 will be titled. "It's set in the 1950s. "If you look historically [at] what happened in the year 1950, there's some more clues." He also confirmed that Jessica Lange would be returning for the fourth season, she's been "practicing her German accent." We can't wait to see which of our favorite actors will be returning next season. But until then, take a look at the reasons why we loved last night's finale.
Why We Loved This Episode:
1.Two words, Stevie Nicks. I mean; the opening of "Seven Wonders" was absolutely PERFECT!
2.Magic. We loved seeing the witches complete their tasks of the Seven Wonders the magic was captivating.
3.Supreme. After an entire season we finally found out who the Supreme was and without any disappointment it was Cordelia.
4.Kyle and Zoe. Maybe it's the hopeless romantic in me but I always love a happy ending. Evan Peters and Taissa Farmiga have had amazing chemistry since Season 1 and we were happy to see the lovebirds Kyle and Zoe survive the finale.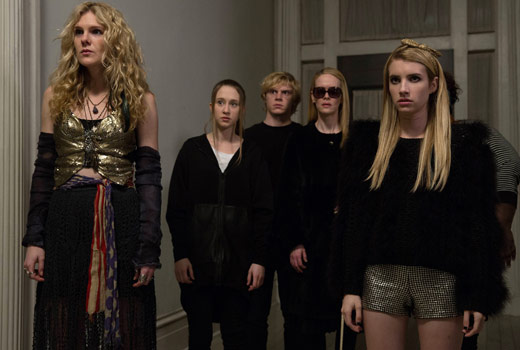 American Horror Story S3 Episode 12 "Go To Hell" By: Lexie Gerson —January 22, 2014 It's hard to believe that this season of American Horror Story: Coven is almost over. Luckily, last night's episode did not disappoint. In fact, it revealed quite a lot and just in time for next week's finale. Here's a breakdown. […]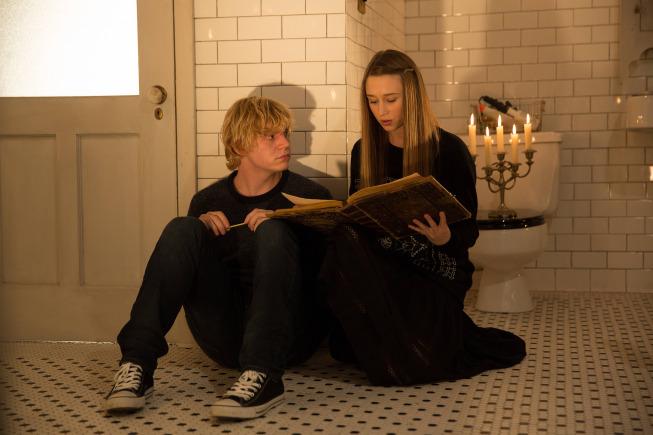 Lexie Gerson —January 15, 2014 It's hard to believe that there are only two episodes left in this season of American Horror Story: Coven. While last night's episode surely did not disappoint there are still so many questions that have not been answered. For one, who will be the next Supreme? Last night, the episode […]