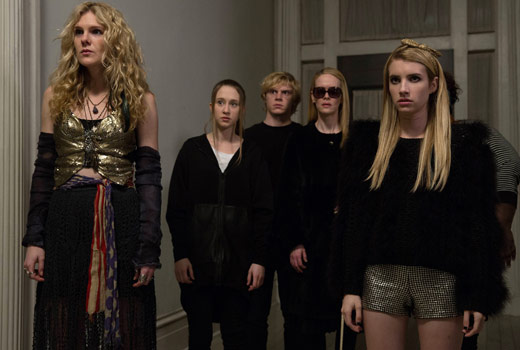 American Horror Story S3 Episode 12 "Go To Hell"
By: Lexie Gerson —January 22, 2014
It's hard to believe that this season of American Horror Story: Coven is almost over. Luckily, last night's episode did not disappoint. In fact, it revealed quite a lot and just in time for next week's finale.
Here's a breakdown.
Last night, the episode entitled "Go To Hell" was full of deaths and returns. But most importantly it revealed the Seven Wonders that will be performed next week when the new Supreme is crowned.
At the beginning of the episode, we see a weak and exasperated Fiona (Jessica Lange). She senses the end coming, so she decides to impart some heirlooms on Delia (Sarah Paulson). When Fiona places a necklace around Delia's neck, Delia "sees" the fate of the coven: Madison's (Emma Roberts) throat is slit, Zoe (Taissa Farmiga) is impaled on a wall, Misty (Lily Rabe) is dead on a piano, Queenie (Gabourey Sidibe) has a spike jammed through her throat and Delia has been shot through the head.
Since Delia now "sees" the fate of the Coven she turns to the Axeman (Danny Huston) for help. He is unwilling to cooperate, he only wants to get rid of all the witches. Delia tells him that Fiona does not love him and that she will leave him. He is left unconvinced until he finds Fiona's single boarding pass. In rage, he doesn't give her a chance to pacify him. Instead, he kills her.
The Seven Wonders
"Every generation needs its leader, the Supreme. No simple test could ever determine the sovereign among us. We rely upon seven, the 'Seven Wonders." There are seven acts of magic one must perform in order to become the next Supreme. Last night we learned that these wonders include: telekinesis, concilium, transmutation, divination, vitalum vitalis, descensum and pyrokinesis. During this episode, we learned that each witch must perform these Seven Wonders or die trying. Apparently, not all of our beloved witches with survive the test.
Deaths
Marie's (Angela Bassett) mortality is back intact and Queenie takes the opportunity to put Delphine LaLaurie (Kathy Bates) out of her own misery. LaLaurie who has moved back into her home is now a modernized version of herself and leads a tour group through her home. We soon learn that Marie and LaLaurie are stuck together for eternity.
We also see Delphine and Marie forced to live in their own hell. Delphine is forced to watch Marie torture and kill her daughters over and over again in her attic (torture chamber) while Papa Legba (Lance Reddick) forces Marie to continually torture and kill young girls who have done her no wrong.
The most shocking and unexpected death last night had to be dear old Fiona. Fiona was killed at the hands of the Axeman, who chopped her into pieces and feds her to the gators. Talk about a brutal death. While we presumed one of the young witches would try to off Fiona at some point, her death still came as a bit of a shock. And although, the Axeman planned to kill the entire Coven he was unsuccessful in his plan and offed by the young witches who brutally stabbed him repeatedly.
Returns and New Powers
Madison appears to be displaying new powers; she is now able to transmutate. She practices these new skills on Delia by playing keep away. But when Delia finally gets her hands on her, she can't "see" Misty. Fiona reassures Delia that the power is inside her, she is not loosing her way.
Another witch who seems to be exhibiting growth is young Queenie. Delia seeks Queenie's help in finding Misty and it is Queenie who uses her new powers to find and resurrect her. I guess that means Misty is still up for the Supremacy.
After a much-needed vacation, Zoe and Kyle (Evan Peters) return to the Coven. Clearly they were not cut out for the sunshine state. But of course, Zoe doesn't return empty handed she comes back with reanimation powers.
Cat Fight
Who doesn't love a good cat fight between witches? After Misty returns, she wastes no time in showing Madison how she feels about her actions. I mean, who wouldn't be pissed off after being entombed and left for dead. The two engage in a kick-ass girl fight. Kyle attempts to break up the girls but its the Axeman's presence that brings it to a halt. Shortly after, the Axeman is slaughtered by the witches.
Questions
Like every episode, this one left us deeply invested with quite a few questions.
Will Spaulding (Denis O'Hare) and his "living doll" make an appearance in the finale? Who will survive their performance of the Seven Wonders? Who will be the next Supreme? If this finale is anything like the previous seasons we can expect tons of twists and turns.
Can't wait to see what the finale has in store for us!
Be sure to tune in to American Horror Story: Coven final next Wednesday 10/9c on FX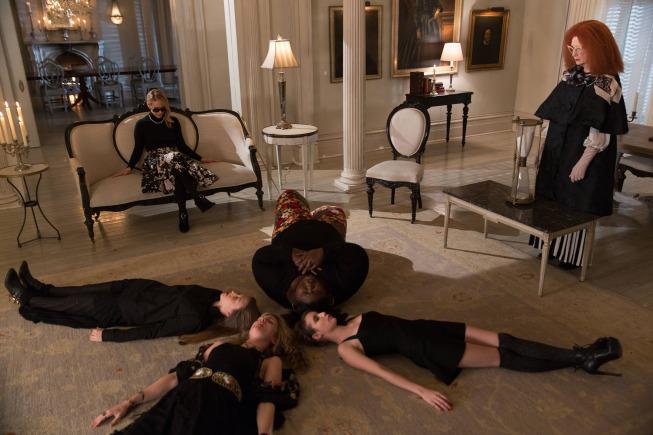 American Horror Story S3 Episode 13 "The Seven Wonders" By: Lexie Gerson —January 29, 2014 A new Supreme rose to power while three witches fell during the American Horror Story: Coven finale. The episode entitled "The Seven Wonders," began with a glorious performance by Stevie Nicks. Nicks started the show off perfectly as she walked […]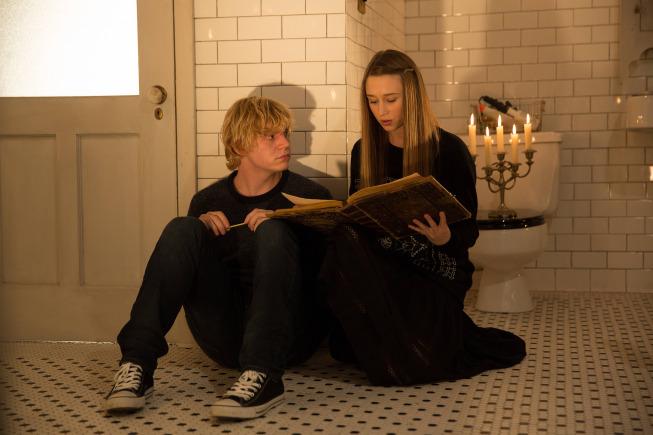 Lexie Gerson —January 15, 2014 It's hard to believe that there are only two episodes left in this season of American Horror Story: Coven. While last night's episode surely did not disappoint there are still so many questions that have not been answered. For one, who will be the next Supreme? Last night, the episode […]