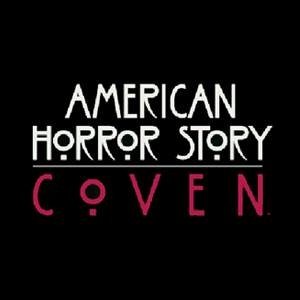 By: Lexie Gerson —January 9, 2013
After weeks of waiting, our FX obsession has returned. The ever so popular series American Horror Story premiered last night, and it certainly did not disappoint.
Before the winter break the show kicked off with a flashback of Hank (Josh Hamilton) witch hunting with his father. In the scene we saw young Hank pressured to kill yet hesitant to pull the trigger. This father-son relationship helped us see why Hank is like he is today. He is constantly trying to prove himself to the world and his father, the head of the witch hunting business.
During the last episode, Fiona (Jessica Lange) turned up at the salon with Madame Delphine LaLaurie's  (Kathy Bates) head in the box. Fiona attempted to warn Marie Laveau (Angela Bassett) that witch hunters were going to attack but what Fiona didn't know was that the witch hunter was Hank and he had been employed by Marie to take down the academy.
At the academy, Cordelia (Sarah Paulson), still blind, struggled to make herself a simple meal. As Myrtle (Frances Conroy) observed her struggling she decided that she had to do something to help. So, she called a meeting with the council (Quentin and Pimbrooke). With an extravagant meal, consisting of lobster, cocktails and melon balls Myrtle's plan began to take shape. As Quentin (Leslie Jordan) and Pimbrooke (Robin Bartlett) indulged themselves we learned that the melon balls were filled with monshood, which paralyzed the pair. Once they were both paralyzed, she took it upon herself to remove one eye from each of their heads with the melon-baller in order to give Cordelia the gift of sight.
Cordelia regained her sight but lost her sixth sense in the process. For Quentin and Pimbrooke there was no coming back; Myrtle butchered the pair so they would never be seen again.
Back at the salon, Laveau ordered Queenie (Gabourey Sidibe) to burn Madame LaLaurie's head but she disobeyed her and took her to one of the upstairs rooms. In order to educate LaLaurie, Queenie put on Roots and forced her to watch it for hours on end.
At the hospital, Luke's health continued to deteriorate, however, Nan (Jamie Brewer) was able to make a connection to him. This allowed Luke (Alexander Dreymon) to communicate with his mother, through her. The conversation started off fine until Nan found out how Joan (Patti LaPone) killed her husband by locking him in the car with a hive of bees, which he was allergic to. Furious with the accusations, Joan kicked Nan, Madison (Emma Roberts) and Zoe (Taissa Farmiga) out of the room and proceeded to place a pillow over Luke's face and kill him.
The girls made their way back to the academy only to find Kyle (Evan Peters) playing cards with Fiona; he can now talk as Fiona helped to 'fix' him. Fiona also took it upon herself to purchase a new dog to protect the academy but when Kyle ends up killing it HE becomes the new academy guard dog.
In the ever so epic finale, Marie gave Hank an ultimatum at the salon. Either he kills the witches at the academy or he will die. Hank loads up his guns but rather than going to the academy he returned to the salon with the intent of killing Marie. Hank shoots his way through the salon but before he has the chance to kill Marie, Queenie grabbed a gun, put the barrel in her mouth and pulled the trigger, blowing off both their heads. Now fearful and powerless, Marie made her way to the academy to seek Fiona's help. Surprisingly, Fiona agreed to take her in.
Last night's premiere of season 2, episode 10, entitled "The Magical Delights of Stevie Nicks," picked up where the last episode left off. Fiona has offered a safe haven to Marie and the two enjoy a cup of tea with a little side of booze.
Laveau is awoken from her sleep by the voodoo devil Papa Legba (Lance Reddick). He says that he needs something from her but before we can find out what it is we see Laveau at the hospital searching the ICU for a newborn. When the nurse tries to stop Laveau from taking the baby she blows a powder into her face and continues to make her way outside with the child. There she is surrounded by police officers that demand her to leave the baby. She responds by killing them.
At the academy, Laveau, Fiona and Cordelia put their heads together in order to determine what happened at the salon. Marie Laveau admits that she was the culprit, paying Cordelia's husband to murder them all. Infuriated, Fiona places the blame on Cordelia and slaps her across the face.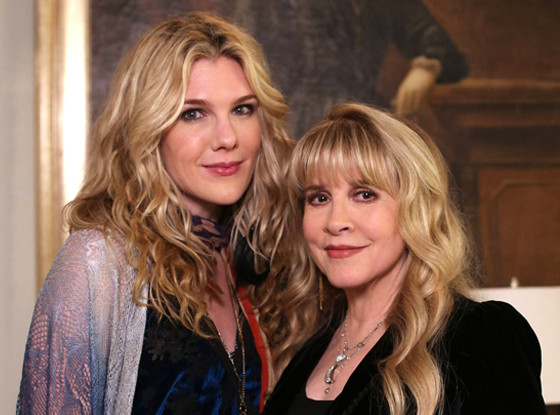 With the next supreme alluding to Misty (Lily Rabe), Fiona decides to reward her with a visit from "The White Witch," Stevie Nicks AS HERSELF! The two share a moment in which Stevie Nicks gives Misty one of her best shawls after she sings "Rhiannon."
Upstairs Madison, Zoe and Nan bicker over their powers and who will become the next supreme.
That night, Fiona and Marie Laveau team up to take down the witch hunters. Although Cordelia asks to help Fiona remains furious with her for marrying a witch hunger. While the mother and daughter quarrel Nan and Zoe return to the hospital to bring Luke a single white balloon. But upon their arrival the nurse informs them that Luke has died.
In this episode, Fiona finally asks Marie Laveau how she came to be immortal. The answer: It turns out that Marie Laveau was 300 years old and super powerful at voodoo when she asked Papa Legba for eternal youth. Papa Legba agreed but there was a cost. Marie Laveau had a baby who Papa Legba took as compensation for eternal youth. However, there was more to the deal. Each and every year since then Laveau owes Legba an innocent's soul.
Across town, Madison schemes to get rid of Misty Day in order to become the next supreme. As the two gather at the site of a funeral Madison uses her powers to bring a deceased man back to life. In doing so, she tries to prove to Misty that she is just as powerful. As the deceased man rises and walks away from his casket Madison hits Misty in the head with a brick. In addition, Madison pushes her into the casket, steals the shawl that Stevie Nicks' gave her and orders the casket to be sealed in a grave.
Nan and Zoe head to Luke's house in hopes of finding the location of his body so they can bring him back to life. When Nan arrives she discovers that she cannot resurrect Luke because his mother has had him cremated. Just then, Nan learns that Joan killed her son by smothering him with a pillow. In rage, she begins to use her powers to kill Joan. Zoe tries to intervene but is unsuccessful as Nan throws her across the room. Nan proceeds in using her powers to force Joan to chug bleach, thus, killing her.
After thinking about the deal Marie Laveau made with Papa Legba for eternal youth Fiona decides that she will seek out his help and cut her own deal with him. Unfortunately, he tells her that it the deal would not work out because she does not have a soul! Unhappy with this response, she decides that the only way she can stave off aging is to murder everybody around her.
The next day Nan finds Marie Laveau's stolen baby in the closet. Laveau catches her and Nan soon realizes that Laveau plans on killing the baby. Fiona enters but does not give Nan's accusations much attention. Nan exits the room and we see Fiona developing a plan with Laveau to "kill two birds with one stone." Just like that, the scene cuts to Laveau and Fiona drowning Nan in a bathtub. Papa Legba arrives and takes the innocent [Nan] who goes willingly.
The final scene for this is Stevie Nick's singing a very poignant rendition of "Has Anyone Ever Written Anything For You?" as Fiona listens and begins to cry.
We can only imagine what that the writers have in store for us but we certainly hope it involves a lot more Evan Peters!
Tune in to American Horror Story Wednesday's 10/9c on FX
*Photos Courtesy of FX
Twitter: @TheVRO
Facebook: Variety Radio Online
Tumblr: Variety Radio Online