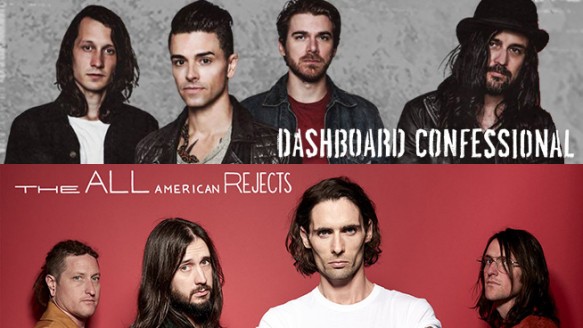 This past Saturday, All American Rejects and Dashboard Confessional took over the beautiful, outdoor Ascend Amphitheater in downtown Nashville, Tennessee, along with opening acts The Maine and Social Animals. While the whole night felt like a blast from the past in the best way possible, there were a few moments in particular that stood out.
All American Rejects opened their set with their 2002 breakout hit, Swing Swing, which quickly got the crowd on their feet. They progressed through their 14 song performance with a mixture of deep cuts (I Wanna and Mona Lisa, among others) and chart toppers including Dirty Little Secret, Move Along, and of course, Gives You Hell.
For me the most memorable moment came towards the end of their set. Lead singer Tyson Ritter explained to the crowd that a friend's son had been getting bullied at school, and asked if we would make a video for him to help stomp out bullying. The whole crowd enthusiastically screamed, "You rock, Jaden!" while Ritter filmed. It's authentic moments like those that I remember the most long after a show is over.
Dashboard Confessional also did not disappoint, with lead singer Chris Carrabba making constant note of how grateful he was to be playing at Ascend, when his career began playing in literal basements in Nashville. It was clear the crowd was full of lifelong fans, who effortlessly screamed the words to every song.
Though the band is mainly known from their hits of the early 2000s, it's clear that fans are still hungry for new music. They performed a new song, "We Fight," and the crowd went wild once Carrabba mentioned that the live recording of that very performance would be part of their upcoming album.
We seem to be living in an era where everything old is new again. It's night like these that remind me why that's not a bad thing.