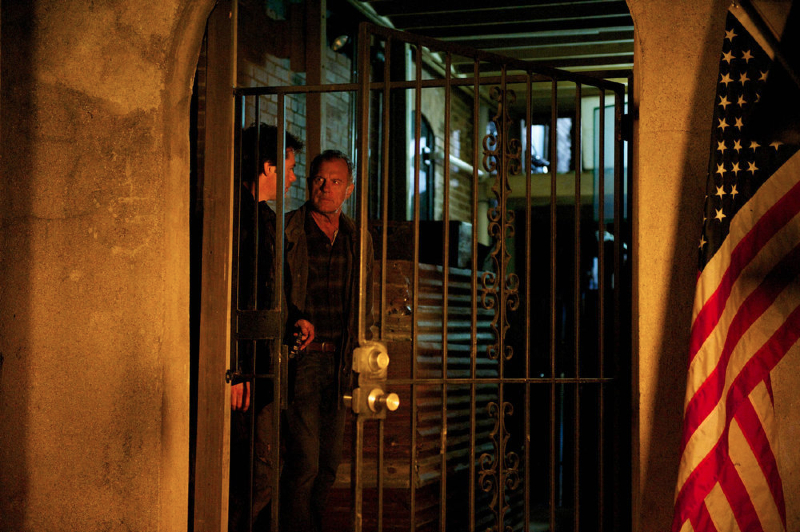 Revolution Season 2 Episode 17 "Why We Fight"
By: Lexie Gerson —March 19, 2014
Last night, Revolution returned with a new episode called "Why We Fight."
Although Miles (Billy Burke), will never admit to it, Monroe's assessment of the young recruits was correct – they should never have trust any of them. But since Miles listened to Rachel (Elizabeth Mitchell), and Gene (Stephen Collins), instead of Monroe (David Lyons), they're currently forced to keep moving their rebel camp.
Earlier Miles decided to let one of the Patriots' recruits, Dillon (John Omohundro), go. Miles thought that hurting a kid would not be right and that by letting Dillon go he would show some gratitude. Instead, Dillon uses his new found freedom and heads straight back to the Patriot's camp and tells them everything, including their location.
Gene swears that he has found the answer to all of their problems as Monroe fails to come up with a plan, too busy playing the "I told you so" card.
Monroe says that they need to enlist men. Gene hatches up a plan for them to enlist the good people of Willoughby. He believes that if he simply talks to the townspeople and tells them what the Patriots are really up to then they'll want to fight back. But this plan may not be easy; most of the town appears to have embraced the Patriots
Gene and Miles head to town to find people willing to help. Unfortunately, not even Gene's closet friend, Mary, wants to believe him. Apparently, the Patriots fed the townspeople false information about Gene; they were told that he was a terrorist. If Mary, who was much more than a 'friend' to Gene then there's no hope.
Monroe manages to get all the men he needs. Apparently the Patriots have been cleaning up the gang activity in the Plains and attacked Duncan's camp. They killed her and most of her men were able to escape and when in search of Monroe. In search of revenge, Duncan's men went in search of Monroe since they figured he was the best person to help them. They were right.
Monroe plans to attack the Patriots' camp but Rachel tells him that its not a good idea. Rachel tells Monroe that he should wait for Miles to return but Monroe chooses to ignore Rachel since he now has men.
Doyle (Christopher Cousins) continues to gruel Neville (Giancarlo Esposito) for his actions. As Doyle prepares to kill Neville, gunshots go off outside, the camp is under attack. Luckily, this brief moment of hesitations allows Neville to overpower Doyle and allows him to finally kill that man who has been torturing his family.
While Neville and Jason (J.D. Pardo) flee the camp, Monroe and his men make sure that all the Patriots are dead. As Monroe continues to kill even those who are already injured, Charlie (Tracy Spiridakos) turns to Conner (Matt Vairo) and asks him if he is ready to work alongside someone like that.
Back in the town, Mary starts to come around to believing Gene's and joining his side. Here we also learn that Mary is engaged to Truman (Steven Culp). At first, she is willing to betray Truman but her decision changes after she see all that Monroe has done. The bodies of the kids are carried into the town and in that second she knew that she could not trust Gene. She returns to Truman and tells him where the men were hiding, no longer caring if Gene lives or dies.
Miles and an injured Gene are on the run as their family begins to fall apart without them. Rachel tries to talk some sense into Charlie by telling her she can have a life outside violence. Unfortunately, Charlie does not want to hear it and isn't going to take any advice from her mother. Charlie knows her mother is capable of some horrendous things so to see her trying to be all wise and uplifting is outlandish.
In a world like this, violence appears to be the only way to live. Miles returns to the camp frustrated with Monroe. But Monroe reminds him that there are bigger evils out there, the Patriots. Monroe tells Miles that the Patriots planned to use the recruits (kids) to assassinate everyone who is important to the Texan government. With this new information Miles decides that he must embrace the fact that violence is the only way to live. However, he must now decide who and what he's fighting for.
Share you thoughts and tune in to Revolution Wednesday's 8/7c on NBC to see what happens.