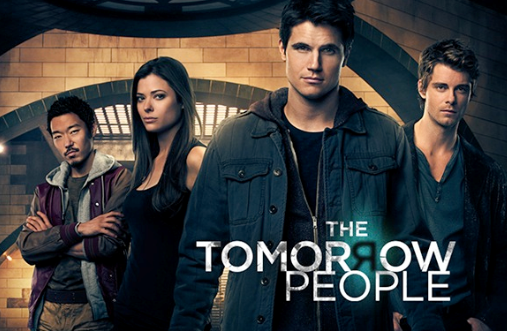 The Tomorrow People #1.01 – Pilot
By:Anna
The Tomorrow People is a remake of the 1970s British TV show.
Stephen Jameson is a Tomorrow People the next step in human revolution who call their powers the 3Ts, telepathy, teleportation and telekinesis. A shadow war between Ultra who hunts them to their extinction and to save them Stephen must find his father who is a Tomorrow People and go to work for the enemy.
Stephen Jameson (Robbie Amell cousin of Stephen Amell) is a high school kid who thinks he has mental health issues as he can hear voices and lands up in other peoples' bed like his neighbours and has no idea how he got there. So each night Stephen straps himself to his bed to try and stop the teleporting.
He lives with his mother and brother Luca. His mother has taken him to specialists who have him medicated up.
Stephen's best friend is Astrid who has stuck with him throughout his problems.
John Young (Luke Mitchell) who is one of the Tomorrow People breaks into a hospital to obtain Stephen's file as he is on their list of people to find. The voice Stephen is hearing is Cara (Peyton List) who is another member of The Tomorrow People. Cara and John find Stephen and take him to their hide out where they explain to him that he has abilities of teleportation, telepathy and telekinesis powers that come from a genetic mutation that breaks out during adolescence and is inherited from his father. They tell Stephen that there is an organisation that hunts The Tomorrow People called "Ultra". This organisation is led by Jedikiah Price (Mark Pellegrino).
John stole from Ultra TIM a computer. Stephen is shown a video of his father and that he is the key to their kind and that he was not killed in a car bombing.
Stephen tries to confide in his friend Astrid but she believes he is schizophrenia.
Stephen is captured by Ultra and wants to inject him which will fix him to be human. Cara, John and Russell (Aaron Yoo) come to Stephen's rescue. In doing so are also captured. Stephen manages to teleport out of his restraints and the room and stops a bullet from killing John by stopping time. This is a new power that none of the others have, only Stephen.
On Stephen's return to home his mother introduces him to his uncle who is his father's brother which he had no idea existed. To his surprise it is Jedikiah. Jedikiah wants Stephen to join Ultra to help with the fight to locate the paranormals.
Stephen decides to join Ultra in an attempt to find his dad and be a double agent helping The Tomorrow People.
Now that Stephen knows who he is, his medications are poured down the bathroom sink.